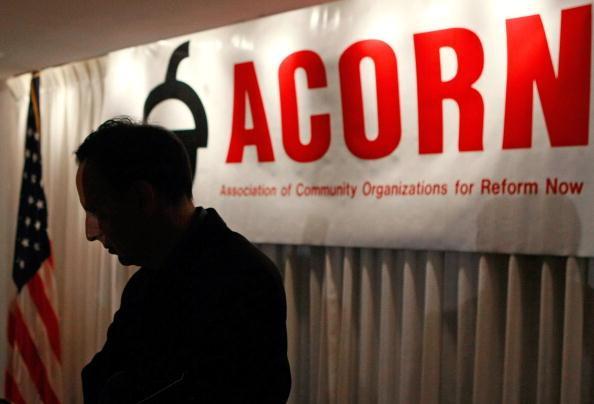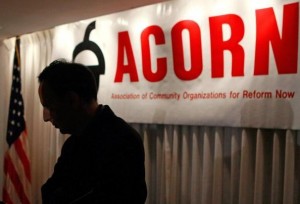 By Kevin Mooney — Political operatives connected with renamed ACORN affiliates remain strongly positioned to help swing close, competitive races for left-leaning candidates in 2012 elections, according to former insiders and policy analysts who are familiar with the network's operations.
Even as the organization known in full as the Association of Community Organizers for Reform NOW (ACORN) files for bankruptcy, it continues to reconstitute itself on the state and national level with the same leadership, same staff, same offices and the same financial backers, sources say.
In fact, the rebranded network may have more flexibility and dexterity in its fundraising, lobbying and electioneering efforts now that the tarnished ACORN name has been dropped, congressional investigators have warned.
On Election Day, ACORN CEO Bertha Lewis announced that her organization was filing a Chapter 7 bankruptcy petition that allows for the liquidation of an estate belonging to an indebted individual or corporation. This is separate and distinct from Chapter 11, which often provides debtors with temporary protection from their creditors while they reorganize their affairs.
"The ongoing political onslaught caused irreparable harm," Lewis declared in her statement. "This effort was a clear attempt to cast a shadow over the historic 2008 Presidential election, and set up a far right counter offense. Through those attacks we re-tooled and re-organized. Then again came the right-wing media blitz. This time of edited videos that misrepresented our mission, and consequently misled the public. The pressure and cost of defending ourselves in multiple investigations as a result of the falsified videos has eroded our organization."
The U.S. bankruptcy filing in New York City shows ACORN and six of its affiliates are $8.6 million in debt and have just $218,709 in cash. The single biggest loser here could be Forest City Ratner, a New York real estate firm, which furnished ACORN with a $1 million low interest loan. However, there are also 21 state governments owed over $1 million in taxes, unemployment insurance and other fees that also stand to lose out, according to the court filing.
Congress moved to cut off public funding last year in response to an undercover investigation that raised questions about ACORN's financial transactions. The organization's employees have also been the subject for voter fraud registration allegations in at least 14 different states. To date, the community activist network is responsible for thousands of falsified electoral documents, a House Oversight Committee report concluded.
But contrary to what has been widely reported, the ACORN network has already reconstituted itself under new generic sounding names in anticipation of the 2012 elections, Matthew Vadum, a senior editor and analyst with the Capital Research Center (CRC), explained in an interview.
"This bankruptcy filing is really a public relations head fake," he said. "ACORN is altering its organizational structure because the name has been sullied and damaged. But it remains a potent force."
Moreover, he added, the congressional funding ban that went into effect last year is now lifted. The stop-gap legislation President Obama signed into law Sept. 30 does not include any provisos or restrictions that could be applied against self described community activists.
The rebranding scheme began in earnest on April 1 of this year when ACORN's national leadership announced it was dissolving the existing network. But the highly publicized proclamation was intentionally misleading, sources say.
"Always note the date, April 1." Marcel Reid, a former board member has observed. "ACORN is not dissolving, it may be morphing, but it is still is in business and it is still in a position to receive funding, although it may be done under different names."
Just after the April 1 announcement, ACORN Housing Corp., the national affiliate at the epicenter of undercover video investigations, renamed itself Affordable Housing Centers of America.
Several state affiliates have also followed suit:
In California, ACORN is now the Alliance of Californians for Community Empowerment ("ACCE"). In Massachusetts, Rhode Island, and Connecticut, ACORN is New England United for Justice. In New York, ACORN is New York Communities for Change. In Arkansas, ACORN has become Arkansas Community Organizations ("ACO"). In Louisiana ACORN is "A Community Voice." In Missouri, ACORN is Missourians Organizing for Reform and Empowerment ("MORE"). In Washington State, ACORN is Organization United for Reform ("OUR") Washington. In Minnesota, ACORN is Minnesota Neighborhoods Organizing for Change. In Pennsylvania, ACORN has become the Pennsylvania Communities Organizing for Change ("PCOC") and Pennsylvania Neighborhoods for Social Justice, Inc. In Texas, ACORN is now the Texas Organizing Project and the Texas Organizing Project Education Fund.
Looking ahead to 2012, the key player here is Project Vote, the national affiliate responsible for orchestrating the voter registration efforts that have stirred controversy. It has been part of the ACORN network since at least 1992 when it employed Barack Obama, according to CRC.
"There is no doubt in my mind that ACORN, in whatever form it chooses to disguise itself, will be a big player in the 2012 election cycle, particularly in the areas of voter registration and voter mobilization," Vadum said. "ACORN's affiliate Project Vote is still apparently well funded and has an ongoing relationship with rebranded ACORN entities such as Pennsylvania Neighborhoods for Social Justice (PNSJ). With Project Vote and PNSJ it's largely the same people. That's the ACORN way: keep recycling people and campaigns and strategies and tactics over and over again while covering up the tracks. My understanding is that ACORN has never been strong in Virginia. ACORN prefers states with big cities because it concentrates its recruiting and activism in poor urban neighborhoods."
ACORN operatives appear to target battleground states where the elections are relatively close. In the 2009 gubernatorial races, for instance, the network was not active in Virginia where the Republican candidate won by a large margin. However, ACORN workers did generate news in the New Jersey where the election was much tighter.