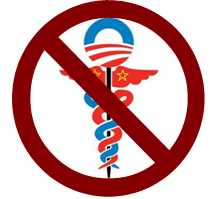 By Robert Romano
The Obama administration has been fully discredited on its pledge that Americans would be allowed to keep their existing health plans if they liked them.
Now congressional Republicans have been granted a golden opportunity to finally present their alternative plans to Obamacare, but are they blowing it?
In 2010, when the Labor Department issued its interim final rule on employer-based health insurance, it was estimated that as many as 69 percent of the 149 million employer-covered market — some 102 million people — would not be grandfathered in under Obamacare.
Similarly, health insurance market expert Robert Laszewski recently found that of the 19 million with individual health insurance policies, 16 million will lose their previous plans due to Obamacare regulations.
Right off the bat, there is a potential constituency for Republicans of up to 118 million Americans who are being forced to switch their coverage — often into plans that are more expensive. Should be a fairly easy issue for the GOP to exploit, right?
Tapping into political unrest over the issue, House Republican Chairman of the Energy and Commerce Committee Rep. Fred Upton has offered H.R. 3350, the seemingly aptly titled "Keep Your Health Plan Act of 2013." The committee's press release promises the bill "would provide millions of Americans the opportunity to keep their policies in 2014."
Unfortunately, the bill, if it ever became law, would likely do no such thing. It only applies to "health insurance coverage in the individual market," according to the text of the legislation. Again, that market only totals 19 million, or little more than 11 percent of the total private insurance market.
Meaning the vast majority of Americans who receive their private health insurance through employers — perhaps as many as 100 million — will still be forced to switch plans, even under the Republican "Keep Your Health Plan Act."
Adding to the legislation's glaring problems, the bill does not actually require insurers to even provide the same health plan that was offered in 2013. It only says that such individual market plans "may continue," if insurers choose to provide them.
Of course, there is little to no incentive for insurers to actually do so. Since health insurance will be mandatory starting in 2014, insurers do not have to worry as much about losing customers should costs rise. Now, offering fewer options to meet up with new Obamacare requirements can help feed the companies' bottom lines.
Even if the bill helped as many as 5 million people to keep their plans — a dubious prospect — it would fail to help almost 96 percent of Americans who could be forced to switch plans by year's end.
In short, more than 100 million people's existing health plans will not be grandfathered under Obamacare — even under the House Republican plan to "fix" the law.
So, the GOP's apparent strategy to blame Obama for breaking his promise that "if you like your health plan, you can keep it," is to offer a whopper of its own that promises to "provide millions of Americans the opportunity to keep their policies" that most likely will not even be true.
In the meantime, Upton's legislation gives House Democrats in vulnerable districts an easy vote to say they supported helping Americans keep their health plans, even if it's not true.
To be fair, Republicans will get to say the same thing, too, but that does not mean the American people should not still be livid with the Upton plan, which has all but given up on even "fixing" Obamacare — letting alone with ever getting rid of it.
Robert Romano is the senior editor of Americans for Limited Government.