By Tom Toth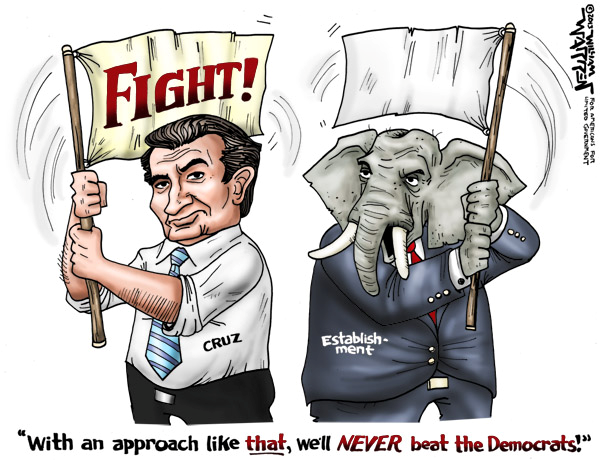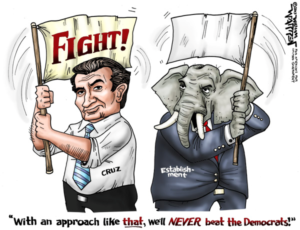 Four years after the remarkable advent of the "Tea Party," many are wondering whether the Conservative grassroots' response to the Obama administration's domestic policies still has the political punch it demonstrated with 2010's landslide midterm elections victories for the then-rejuvenated Republican party.
That evidence is now rolling out in the heart of the Republican's electoral infrastructure—and news is good for Conservatives.
After many moderate Republican establishment voices shouted victory over the Tea Party after defeating several Conservative primary candidates across the country early in the primary season, recent developments out of Texas and Mississippi should make them rethink their assumed dominance over the national party.
In Texas, several important races went in the direction the limited government candidates. In the state's attorney general race, Conservative candidate and state senator Ken Paxton took out the more moderate Dan Branch. In Texas, virtually all legislation that has a hope of passing goes through the attorney general's office. With a Tea Party-backed attorney general, ideologically aligned Conservative representatives in the Texas state government now have a definitively friendly bridge for passing their legislative initiatives.
Another Conservative victory in Texas came from John Ratcliffe, a Tea Party-backed Conservative Republican, who managed to oust longtime Representative Ralph Hall. The departure of Hall, a World War Two veteran who was seeking his 18th consecutive term from Texas' Fourth Congressional District, is the primary election season's biggest shake up to the Republican delegation on Capitol Hill from Texas.
Both candidates are expected to win their respective general elections in the state that tends to consistently vote Republican.
News out of the  Mississippi is also good for Conservatives moving toward the primaries there. Long-time incumbent Senator Thad Cochran is currently locking horns with Conservative state senator Chris McDaniel in a primary that is as messy as anything you'll see in a political race. But after all the mud-slinging and attack ads by each man vouching to run as the deep red state's Republican nominee in November's Senate elections, the Conservative McDaniel—who's record has earned him the endorsements of Conservative organizations such asClub for Growth, the Senate Conservatives Fund, Heritage Action, and Freedomworks—now leads the state's moderate incumbent by four percentage points, according to the latest polling data.
What's perhaps most interesting about these latest races, however, may very well not even be polling data and outcomes, but each candidate's rhetoric on the campaign trail.
All of the aforementioned candidates marketed themselves as if they were all Tea Party-like Conservative Republicans. This was also the case in the last Republican presidential primary which featured 20 televised debates that gave Republican candidates primetime television airtime which most used as a platform to convince a national Republican electorate that one or the other had the greatest Conservative credentials or intentions (Who's healthcare plan was too liberal? Who intends to cut the most taxes? Who has already cut the most taxes and shrunk the size and scope of government?).
Like in 2010 and 2012, rarely will anyone see in 2014 a Republican primary contender outside of a far-left state attempt to picture himself or herself as the most "moderate," "establishment friendly" candidate who's best able to work alongside progressives holding public office.
And that is precisely the maintained point of victory for the Tea Party: the Republican party has been, in its core demographic power centers, affirmatively convinced that Conservative, limited government principles of statesmanship ought to be applied by Republican elected officials. This forces the moderate establishment to fight on the political and rhetorical battleground of the principled Conservative.
And as long as Republican debates stay on that battleground, Conservatives ensure themselves long-term success.
Tom Toth (@TomToth3) is the social media director for Americans for Limited Government and a contributing editor for NetRightDaily.com