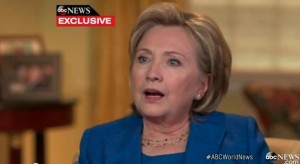 Hillary Clinton laughed her way through an early 1980s taped interview surrounding her getting a 41-year-old Arkansas man off on charges that he raped a 12-year-old girl in 1975.
The Washington Free Beacon has the story, where you can hear Hillary giggling through explaining how her faith in polygraph tests was forever broken due to her client's ability to pass one in connection to the rape.
Nowhere do "child" advocates express any concern about the girl. Nowhere does the "women's" advocate express any concern about future victims of this sexual predator who she got off with time served — two months.
Get the full story from The Hill here.