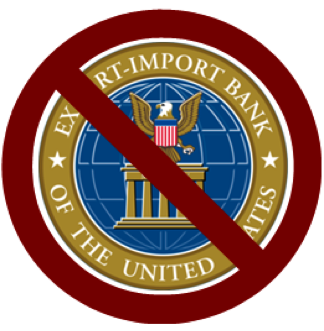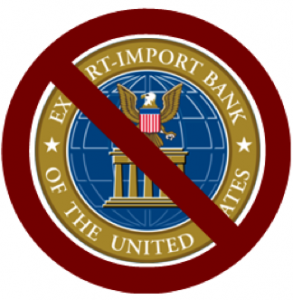 By Robert Romano
How much is being House Majority Leader worth?
How about $27.3 billion?
That is how much in loans the U.S. Export-Import Bank doled out in 2013 to supposedly "facilitate exports of goods and services," according to the bank's charter.
Yet, ahead of the June 18 House leadership elections necessitated by the crushing defeat of House Majority Leader Rep. Eric Cantor (R-Va.) by economic professor Dave Brat in the Republican primary in Virginia's 7th Congressional District, House Majority Whip Rep. Kevin McCarthy (R-Calif.) promised members not to move the bank's reauthorization due up in September.
Instead, he is deferring to House Financial Services Committee Chairman Rep. Jeb Hensarling (R-Texas) — at one point a favorite of conservatives to replace Cantor before he took himself out of consideration — on what to do with the bank. Hensarling, whose committee is holding a hearing to discuss the merits of reauthorization on June 25, opposes the bank calling it "crony capitalism."
Was the Ex-Im Bank the price of McCarthy's election to be House Majority Leader? We'll likely never know for certain, but McCarthy's pre-election assurances not to move the bank's reauthorization over Hensarling's head have certainly lowered expectations on Capitol Hill that it will get done this year.
Which is bad news for mega-companies like Boeing, whose customers received $7.9 billion of loans to purchase planes and other equipment. That constitutes nearly a third of the bank's total authorizations, earning it the moniker, the Bank of Boeing.
Since Cantor's defeat, Boeing's publicly traded stock has dropped by about 5 points, temporarily costing the company more than $3 billion of market cap. Not that it matters that much. For what it's worth, the company was trading far lower in February long before Cantor's defeat.
And not that Boeing, a company valued at $97 billion, really needs the loans to be provided by the Ex-Im Bank. If Congress really does pull the plug on the bank, either the company would set up its own financing or it might just work with a financial institution to provide credit on favorable terms to Boeing customers.
And it is not as if the bank itself is even needed to "facilitate exports of goods and services."
In 2013, the U.S. economy exported $2.271 trillion of goods and services, a $60.8 billion or 2.7 percent growth from 2012. In 2012, exports totaled $2.21 trillion, a $97.76 billion or 4.6 percent growth from 2011.
Yet, almost none of the increases were apparently because of the Ex-Im Bank loans, which only grew $3.1 billion in 2012 and actually decreased by $8.5 billion in 2013 to $27.3 billion.
If even when the Ex-Im loans decrease, U.S. exports increase, there is no discernible impact on the growth of exports by the bank, and its reauthorization cannot be justified on the merits.
And now, with Cantor's defeat and McCarthy's ascent plus his assurances not to move the reauthorization, Hensarling finally has the opportunity to do the thing he has wanted to do for years, which is just let the bank's charter lapse.
Sorry, Boeing.
That said, it is now up to McCarthy to keep his word and let the committee process work. If that means the end of the bank, then so be it.
Robert Romano is the senior editor of Americans for Limited Government.