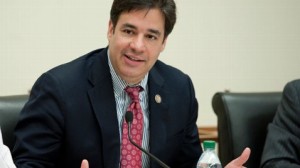 By Rick Manning
Note: House leadership elections require more than 50 percent of Republican House members to vote for a candidate. These elections are conducted using secret ballots.
The race to replace fallen House Majority Leader is changing faster than I can type this story.  Here is the current state of play.
UPDATE:  Americans for Limited Government's Nathan Mehrens responds to Labrador announcement:
June 13, 2014, Fairfax, Va.—Americans for Limited Government President Nathan Mehrens today issued the following statement praising Rep. Raul Labrador (R-Idaho) for entering the race for House Majority Leader that will take place next week:
"Idaho Republican Raul Labrador's entrance into the race for Majority Leader of the House of Representatives provides House Republicans with a unique opportunity to decide the direction they wish to take over the next six months.
"Republicans across the nation should be heartened by Labrador's bold decision. A competitive battle of ideas between current Majority Whip Kevin McCarthy and the Idaho congressman will hopefully invigorate the Conference, serving as the stimulus in the fight for limiting government.
"Americans for Limited Government praises Labrador's decision to engage all House Republicans in a debate about the ideas that should direct them over the remainder of the 113th Congress. The entire nation will hopefully benefit from this soul searching decision about who should be Majority Leader for the rest of the year."
UPDATE: Raul Labrador joins House Majority Leader race, below is his announcement:
Labrador Announces Candidacy for House Majority Leader
"I want a House Leadership that reflects the best of our Conference"
BOISE, ID – Rep. Raúl Labrador (R-ID) announced his candidacy today to serve as House Majority Leader.  He released the following statement: 


"I was stunned when Eric Cantor lost his primary election earlier this week.  Eric is a good friend and I have tremendous respect for him.  But the message from Tuesday is clear – Americans are looking for a change in the status quo.
"I want a House Leadership team that reflects the best of our conference.  A leadership team that can bring the Republican conference together. A leadership team that can help unite and grow our party.  Americans don't believe their leaders in Washington are listening and now is the time to change that.
"Republicans need to address the growing challenges of immobility amongst the poor, insecurity in the middle class and stop protecting the special interests at the top.  We must ensure every American has an equal opportunity to succeed, that they are treated fairly not only by the laws we pass in Congress, but by our political system. We must restore the proper role of government to create space for free markets and civil society to prosper and flourish. And we have to unify the country around the values we share, the ideas we all support, and solutions we can agree on. President Obama and the Democrats have had their chance and they have failed. Republicans must be willing to take these challenges head on with new leadership, fresh ideas, and a different approach. I am running for Majority Leader because I want to help create a vision of growth and opportunity for everyone and start getting to work for the American people."
Rep. Labrador was first elected to Congress in 2010 and was one of 87 freshmen Republicans elected to Congress that year.  Born to a single mother in Puerto Rico, Raúl Labrador moved with his mother to the mainland U.S. at age 13. His mother worked many different jobs to make ends meet.  Though times were tough, Raúl's mother often reminded him that if he studied, worked hard, and played by the rules, he could achieve the American Dream. This encouraged Raúl to never give up on his professional aspirations and personal dreams.
Rep. Labrador is a 1992 graduate of Brigham Young University and a 1995 graduate of the University of Washington, School of Law.  He currently lives in Eagle, Idaho with his wife, Becca.  They have five children.
UPDATE: Raul Labrador (ID) is rumored to be jumping into the race for Majority Leader after the stunning news that Pete Sessions had reversed course and was staying out of the race.  Labrador has been a leader of the monthly press and blogger briefings known as "Conversations with Conservatives" and would bring a fresh perspective into the race.
UPDATE: Conservative groups are actively attempting to draft Rep. Jim Jordan to run for Majority Leader.
UPDATE:  Sources say that Raul Labrador is, "getting a lot of encouragement from other members to run" for Majority Leader.  Clearly, the House Republicans are looking for alternatives and a real discussion about the direction they should take.
UPDATE: Pete Sessions is definitely in the race for Majority Leader.  Putting a red state Republican into the mix for the second highest post in the House.
UPDATE:  The rumor that Pete Sessions will be abandoning his bid for Majority Leader in order to compete for the Majority Whip spot is being denied by sources close to Sessions.
UPDATE: Representative Louie Gohmert (R-TX) has jumped into the race to head the Republican Study Committee.  Gohmert has been a conservative leader who would restore the RSC's credibility with the Party's political base.
Gohmert is known as the unquestioned conscience of the House. As a former appellate court chief justice in Texas, he is used to reading a lot of complex material–Gohmert not only read every single page of the Obamacare bill before voting on it–he has yellow sticky notes on his copy in his office.  Gohmert ALWAYS stays at night and talks on the House floor to frame issues.  Even on days when all the other Members head for the exits, he stays over and takes the last hour on the floor to wrap things up for the week from a conservative point of view.  His Will Rogers style of cutting through complex matters to point out in a humorous way the obvious, Main Street (conservative) point of view is refreshing in a world where many leading Republicans sound like uncaring CPAs when discussing the issues confronting our nation.
UPDATE:  The Hill is reporting that Indiana's Marlin Stutzman, from the class of 2010, is joining the race to become Majority Whip.
UPDATE:  Conservative leader Rep. Steve King issued a statement urging that the leadership elections be delayed stating,
"At a time when Republicans in Congress are fighting the Obama Administration to oppose snap elections for unions on American employers, Republican Leadership is trying to do the same in the United States House of Representatives," said King. "This snap election has the effect of stacking the deck.
Unfortunately, while both current candidates benefit from the hasty timeframe prescribed by leadership, neither opposes amnesty legislation being brought to the floor of the House. The primary election in Virginia 7 that led to this leadership vacuum turned on the electorate's opposition to amnesty. Have we learned nothing?
Let's take more time to get our heads clear and elect a staunch conservative, anti-amnesty candidate to step up and lead the Majority."
Majority Leader race:
California's Kevin McCarthy, who currently serves as Majority Whip, is looking to move up, and has been anointed by Cantor to take his place.  While his supporters have pushed out rumors that he has the position locked up, the balloting is a secret election, and no one knows what actually will happen when the votes are cast on June 19.
Rep. Jeb Hensarling (R-TX) set off a scramble amongst conservative House Republicans with his startling announcement that he would not seek the Majority Leader slot.  Conservatives were rallying around his candidacy to beat McCarthy, and his decision created minute by minute developments in who's in and who's out in the race.
Rep. Jim Jordan (R-OH), at the time of this writing, is not in the Majority Leader race, however a number of top conservative leaders are attempting to recruit him.  Jordan jumped into the national consciousness through his leadership of the cut, cap and balance proposal that put conservative economic principles front and center for the House.  Since then, he has been a staunch critic of Lois Lerner and her anti-Tea Party jihad at the IRS.
Rep. Raul Labrador (R-ID) is the member with the least tenure who is rumored to be contemplating a jump into the race.  Labrador has been active on many issues, and famously dropped out of the bi-partisan group trying to fashion an immigration reform law that fits with conservative principles, effectively ending the group's relevance.  Labrador has made his mark defending and defining conservative stands in the House through his leadership of regular panel question and answer sessions with the media.  These sessions have given conservative members the ability to go back and forth with media (including this blogger) on issues facing the House, and has established the Idaho member as one of the young gun leaders of the conservative wing of the House.
Rep. Pete Sessions (R-TX) is the current Rules Committee Chairman and previously served as the head of the National Republican Congressional Committee, leading the national effort in the 2010, tea party election landslide.  Sessions survived a tea party challenger earlier this year, and draws upon the advantage of having played an active role in the election of much of the Republican Conference.  Sessions has made headlines in the past week, positioning himself as a staunch critic of Obama's lawless open borders policy that is flooding his home state with illegal immigrants under the promise of amnesty.
In other Leadership news, the Majority Whip slot is also being vacated: current candidates are Steve Scalise of Louisiana and Peter Roskam from Illinois.
Additionally, the head of the Republican Study Committee (RSC) is likely to open up as well.  More on potential candidates for this important post designed to provide conservative members a voice in setting the direction in policy matters.  The cut, cap and balance initiative came from the RSC, when Jim Jordan was its chairman.  This group has been neutered in the past year as Boehner ally Scalise was elected as its head, and it became more of a cheerleader for the Speaker's policy preferences rather than a conservative voice pushing to move those policies to the right.
Check back, updates to follow.