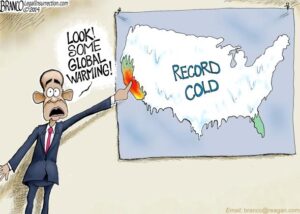 By Rick Manning
Baseball fans across the nation will be turning their eyes to Minneapolis, Minnesota for the next couple of days as the stars of the game congregate to showcase their skills.
But one thing will be missing – summer weather.
Almost as if the Michael Mann hockey stick had been turned upside down, Minneapolis is expected to see record low temperatures on Monday and possibly Tuesday nights as temperatures dip down into the low 50's in another so-called polar vortex.  High temperature readings in the Twin Cities for the two days range between the low 60's and 70's Fahrenheit.