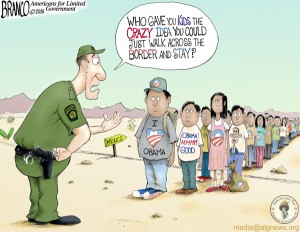 By Robert Romano
The nation was taken by surprise on July 28 by an Associated Press (AP) report stating that the Obama administration was planning to arbitrarily implement executive action that could suspend most deportations, grant legal status to millions presently here illegally, and excuse visa overstays.
According to the AP, "White House officials are making plans to act before November's mid-term elections to grant work permits to potentially millions of immigrants who are in this country illegally, allowing them to stay in the United States without threat of deportation."
What has been unclear is under what legal pretense he might do so. Under federal law, illegal immigrants are subject to deportation. So, how might Obama get around that?
One hint of a potential course comes from the manner in which the Obama administration has been resettling tens of thousands of children and others who came across the nation's southern border. The Department of Health and Human Services (HHS) has been relocating them via the Office of Refugee Resettlement.
Did Obama declare them to be refugees? No. This has been done under a different part of federal law that provides for "the care of unaccompanied alien children" by HHS.
Yet, it raises an interesting loophole in law.
As it stands, Congress never authorized nor intended refugee status to be used to grant amnesty or resettle illegal immigrants that cannot claim to be legitimate refugees. According to the State Department, "A refugee is someone who has fled from his or her home country and cannot return because he or she has a well-founded fear of persecution based on religion, race, nationality, political opinion or membership in a particular social group." It says resettlement is a "solution for only a few."
Moreover, there are refugee admissions ceilings to each region in the world, set by the President in consultation with Congress, per U.S. law. According to the Congressional Research Service, "For FY2014, the worldwide refugee ceiling is 70,000, with 68,000 admissions numbers allocated among the regions of the world and 2,000 numbers comprising an unallocated reserve. An unallocated reserve is to be used if, and where, a need develops for refugee slots in excess of the allocated numbers. The FY2014 regional allocations are, as follows: Africa (15,000), East Asia (14,000), Europe and Central Asia (1,000), Latin America/Caribbean (5,000), and Near East/South Asia (33,000)."
FY 2014 ends on Sept. 30, 2014, so these ceilings are most certainly still in place. The administration is only supposed to take in 5,000 refugees from Latin America and the Caribbean this year, and then, only those who have, according to U.S. law, "a well-founded fear of persecution on account of race, religion, nationality, membership in a particular social group, or political opinion."
Except, because of the loophole for unaccompanied children, the Obama administration has easily blown past the 5,000 refugee admissions ceiling for Latin America.
Obama has unilaterally changed U.S. refugee policy.
Bear in mind, these were the levels the Obama State Department stated in the first place in its FY 2014 submission to Congress. Obama never changed the ceilings. And he makes no claim these are political refugees.
Yet, what will he do for FY 2015? Perhaps the manner in which he intends to grant amnesty to millions of illegal immigrants is to simply grant them asylum as refugees. This is not a program that was ever intended to help people who are poor or unemployed, it was supposed to assist those fleeing religious or political or racial persecution.
But would that stop Obama? Perhaps he'll just broaden the interpretation of the law for what constitutes a "well-founded fear of persecution" by those with a "membership in a particular social group" based on, say, that group's socio-economic status.
It is important to note that there appears to be no upper limit on refugee admissions ceilings under law. It simply states the number of refugees "may not exceed fifty thousand unless the President determines, before the beginning of the fiscal year and after appropriate consultation … that admission of a specific number of refugees in excess of such number is justified by humanitarian concerns or is otherwise in the national interest."
So, all Obama would have to do is declare there to be a humanitarian crisis and fudge the definition of persecution, and submit a report to Congress on how many refugees he wants to take in for FY2015.
As it stands, there clearly is a plan for some sort of arbitrary executive action to get around U.S. immigration law. This may be one option the administration is considering. It's not legal, but isn't that the idea?
Robert Romano is the senior editor of Americans for Limited Government.