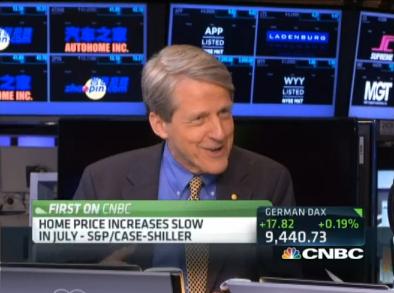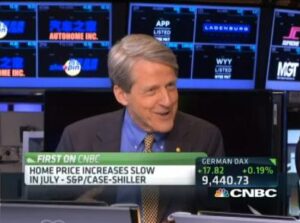 By Robert Romano
"This is what happens when prices go up, it's elementary."
That was Nobel Prize-winning economist Robert Shiller on CNBC's "Squawk on the Street," explaining how if home prices rise too fast, it can have an adverse impact on home sales as they become increasingly unaffordable. And then, it eventually impacts on home values.
The interview came as the Case-Shiller Home Price Index showed a slowdown in home price increases, dropping from 0.9 percent in June to 0.6 percent in July.
The reason? Sales are down, says Shiller.
"Existing [home] sales have been weakening, pending home sales have been weakening, so there is a sign of some weakening," Shiller noted.
Here, Shiller is citing the National Association of Realtors' tracking of existing home sales, which were down 1.8 percent in August alone, and down 5.3 percent compared to a year ago.
That was after home values exploded in 2013, up by more than 10 percent. Usually, that's not a good sign economically, and Shiller knows it.
As he said, "This is what happens when prices go up." Affordability, therefore, is the reason for the decline in home sales.
Shiller added, "People didn't understand this five years ago, I can't imagine why, but they didn't."
Shiller also pointed to San Francisco as a specific example. It was the one city that posted a decline in home prices last month.
"San Francisco is down by 0.4 percent," Shiller said. "That's the worst, it also happens to have been the city that went up the most. Between 2009 and just before, it was up two-thirds, over 65 percent."
He said the decline was necessary: "My San Francisco story… is this is their comeuppance. They were the most bubbly city. It's time for a correction there."
And, perhaps, elsewhere, too. As the saying goes, so goes housing, so goes the economy.
To be certain, home sales declines can be found preceding the 1991 recession, the 2001 recession, the 2009 recession, and we can see them again today.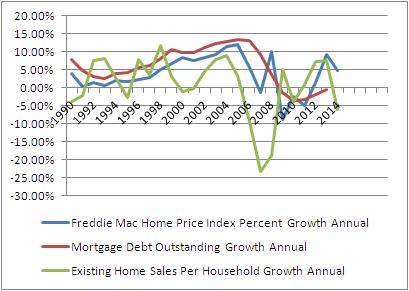 Does that mean we're due for another recession?
There is still time left in the year, but it is hard to find a broader measure of the American people's confidence in the economy than their decision to buy a home. When home values become unaffordable, it does not lead to more sales.
And right now, the leading real estate economist in the world is suggesting homes may be overpriced.
Strap in, this could get bumpy.
Robert Romano is the senior editor of Americans for Limited Government.