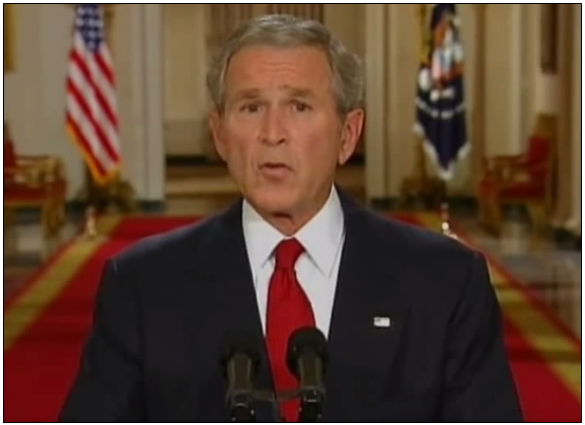 By Rick Manning
Eight years ago, on September 15, Lehman Brothers failed, starting a rapid series of events that resulted in the bank bailouts and the country has not been the same in so many ways.
While President George W. Bush famously said that he, "abandoned free market principles to save the free market system" explaining his decision to bail out Wall Street, General Motors and other failing entities. But did he save it, and if so, for who?
General Motors for its part, emboldened by its debt-free balance sheet invested in new factories in China and is now importing a mid-sized crossover SUV known as the Envision. Meanwhile Flint, Michigan, which used to be known as Buick City, finds itself struggling as a city left behind, more known as a place which messed up its drinking water treatment than for its auto legacy.
The banks have largely pulled out of the tailspin, but after bailing them out, the Obama Justice Department has been busily suing the survivors and winning massive awards with the big winners being local advocacy groups who have been cut into a big piece of the pie, even though they were not harmed in any way. Investor's Business Daily reports, "Radical Democrat activist groups stand to collect millions from Attorney General Eric Holder's record $17 billion deal to settle alleged mortgage abuse charges against Bank of America. Buried in the fine print of the deal, which includes $7 billion in soft-dollar consumer relief, are a raft of political payoffs to Obama constituency groups. In effect, the government has ordered the nation's largest bank to create a massive slush fund for Democrat special interests."
This creation of a well-funded new network of housing advocacy groups, exactly like the discredited ACORN which served as the community organizers who encouraged people with next to no ability to take out loans to buy first or sometimes even bigger homes.
Since the 2008 bailout, the labor participation of workers between the ages of 16-64 has continued to drop and millions more workers have increasingly been shifted to the service economy, or what's left of it. Those who can't make it wash out of the economy altogether.
But perhaps most significantly, the banking collapse and subsequent bailout led to eight years of President Obama's constantly pulling at the threads of America finding the frayed edges and sowing discontent wherever possible.
America today is less confident and surefooted about the future economically and abroad, and while it can't all be attributed to the bank crisis, it was this seminal event that threw us collectively off balance.  Our economic lives tossed about due to events that were not only out of our control, but were not understandable.
Eight years ago today, Lehman Brothers fell, starting a domino effect which continues to this day with persistent minimal economic growth numbers and unemployment numbers dependent upon people dropping out of the economy to be maintained.
Oh what an eight years it has been.
Rick Manning is the President of Americans for Limited Government.