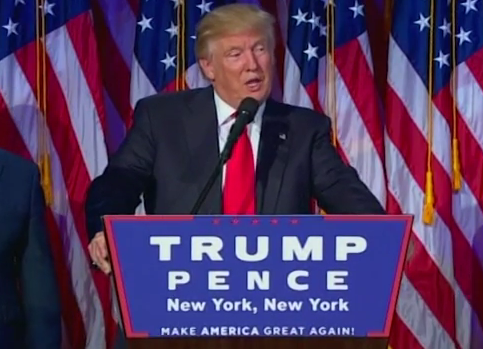 By Algis Šilas
Throughout the 2016 election cycle, conservative political pundits and establishment Republicans told Republican primary voters that if Donald Trump won the Republican presidential nomination, former Secretary of State Hillary Clinton would win.  Republicans would even lose control of the U.S. House of Representatives and the U.S. Senate.  Some academic experts, such as University of Virginia professor Larry Sabato, predicted that Clinton would win.  Editor-in-chief of The Weekly Standard Bill Kristol was soliciting names on Twitter for a new party if Trump were to win the Republican nomination: "Crowd-sourcing:  Name of the new party we'll have to start if Trump wins the GOP nomination?  Suggestions welcome at editor@weeklystandard.com".  (Breitbart.com, 12/21/2015)
Asked by ABC News if he was serious, Kristol stated, "I was semi-serious.  I don't think Trump will be the nominee, so I don't expect it to be an issue.  But since I don't think I could support Trump, and I'd like to have someone to vote for, if Trump were to be the nominee, I'd be open to a new party, probably for 2016 only — but you never know."  (ABC News.go.com, 12/26/2015)
Mr. Kristol would also say he would like to see Trump choke on stage.  "Bill Kristol joined MSNBC Friday to talk about Monday's presidential debate." "'I like the idea of Donald Trump choking before 100 million people Monday night.  It would be a fitting capstone to this presidential year.'"  (WeeklyStandard.com, 9/23/2016)
Former Governor Jeb Bush's political consultant Mike Murphy called Trump a zombie front-runner and described Trump as dead politically and would lose just like liberal Democrat presidential candidate South Dakota Senator George McGovern.  McGovern lost in 1972 to President Richard Nixon with an Electoral College vote of 17 to Nixon's 520 votes.
"[Sahsa Issenberg:]  How has Trump's entry changed the race?  [Mike Murphy:]  It created a false zombie front-runner.  He's dead politically, he'll never be president of the United States, ever."  "Now if there's been some huge categorical change in the party and the party is completely obsessed with a grievance candidate they can get one.  You know, it's possible:  we lose 42 states, it'll be Republican McGovern.  But I think that's unlikely.  Not impossible but unlikely."  (Bloomberg.com, 10/20/2015)  Footnote:  Mr. Murphy was in charge of running the pro-Bush super PAC (Right to Rise), raising $100 million and spending $77 million in support of former Governor Bush's failed 2016 presidential campaign.  (CNN.com, 2/21/2016)
Conservative columnist George Will opined in The Washington Post that if Trump won the presidential nomination he would create "down-ballot carnage."  "Trump would be the most unpopular nominee ever, unable to even come close to Mitt Romney's insufficient support among women, minorities and young people.  In losing disastrously, Trump probably would create down-ballot carnage sufficient to end even Republican control of the House."  "At least half a dozen Republican senators seeking reelection and Senate aspirants can hope to win if the person at the top of the Republican ticket loses their state by, say, only four points, but not if he loses by 10."   (Bold emphasis added.) (George Will column, WashingtonPost.com, 4/29/2016)
Mr. Will would tell PJ Media in an interview that he changed his party's registration from Republican to unaffiliated.  "George F. Will, a conservative columnist and prominent Republican pundit for the past 40 years, said he has left the Republican Party because Donald J. Trump is the party's presumptive presidential nominee.  "He said he had switched his party registration to unaffiliated this month, adding that Republicans should 'grit their teeth' during a Hillary Clinton presidency and then hope to beat her in 2020.  'This is not my party,' Mr. Will said in a speech on Friday at the Federalist Society before the PJ Media interview."  (Bold emphasis added.)  (The New York Times, 6/25/2016; PJ Media, 6/24/2016)
Almost two weeks prior to election day, professor Sabato predicted that Trump would lose worse than former Massachusetts governor Mitt Romney did in 2012, and possibly worse than Arizona Senator John McCain did in 2008.  "Sabato, a widely respected political science professor and head of University of Virginia's Center for Politics, forecasts that Democrat Hillary Clinton will win 352 electoral votes to Trump's 173.  'We have 352 electoral votes — 82 more than the 270 required — at least leaning to Hillary Clinton, 173 at least leaning to Donald Trump, and 13 electoral votes worth of Toss-ups: Iowa, Utah, and the single electoral vote in Maine's Second Congressional District,' Sabato explains."  (DailyCaller.com, 10/28/2016)
What happened November 8, 2016?  Trump would go on to win 306 Electoral College votes to Clinton's 232 votes.  In 2012, Romney managed to win 206 Electoral College votes to President Barack Obama's 332 votes.  In 2008, McCain managed to win 184 Electoral College votes to then Illinois U.S. Senator Barack Obama's 354 votes.  Granted, the left will emphasize that Clinton won more popular votes than Trump did.  In the end, the Electoral College votes are the ones that constitutionally matter.  (The Epoch Times, 12/12/2016; National Archives/Electoral-College2012; National Archives/Electoral-College2008)
Trump won the blue states of Wisconsin, Pennsylvania and Michigan.  He won Ohio.  He won Florida and Iowa.  Trump even won Utah, which Utah native and Presidential  candidate Evan McMullin was supposed to win.  Trump won North Carolina, the state that Senator Obama won in 2008, and which Clinton was to win again in 2016.
Of the 676 counties that voted twice for Obama in 2008 and 2012, one-third of those counties voted for Trump on Nov. 8.  (Mark Steyn,  Steynonline.com, 11/15/2016)  Trump also won 194 counties out of 207 counties that voted for Obama either in 2008 or 2012.
(The Washington Post, 11/9/2016)
Almost 29 percent — three-in-ten Hispanic-Americans voted for Mr. Trump — more than the 27 percent that Romney received in 2012.  Furthermore, Hispanics voted for Clinton by 36 points, a decrease from Obama's 44-point victory he received in 2012.  Also, Mr. Trump received 49 percent of college-educated whites to Clinton's 45 percent. (FoxNews.com, 11/9/2016)
What happened to the predictions that Trump would create down ballot carnage and that Republicans would lose their majority in the U.S. House of Representatives and possibly the U.S. Senate?  Republicans lost two Senate seats (Illinois and New Hampshire) and now hold 52 Senate seats vs. 48 Democrat seats.  In the U.S. House of Representatives, Republicans hold the majority with 241 seats vs. 194 Democrat seats. (The New York Times, 12/11/2016; Politico.com, 12/13/2016)
Furthermore, Republicans added to their 2014 gains in the nation's state legislatures — five more state House chambers and two state Senate chambers, reducing the Democrat Party's control to levels not seen since the Civil War.  (CNSNews.com, 11/16/2016)  For the past eight years under President Obama, the Democrat Party has managed to lose 1,000 legislative seats.  (Yahoo.com, 11/16/2016)  The Democrats now only have total control of four legislatures and the governorships in California, Hawaii, Delaware and Rhode Island.  Not since the 1920's has the Democrat Party been in such a weak position.  (Michael Barone column, WashingtonExaminer.com, 12/17/2016
According to President Obama, Fox News was part of the problem of why the Democrat Party and its candidates lost.  "[President Obama:]  And part of the challenge, though, that we do have, and this is something that I've been chewing on for a while now, is that there is a cohort of working-class white voters that voted for me in sizable numbers, but that we've had trouble getting to vote for Democrats in midterm elections.  In this election, [they] turned out in huge numbers for Trump.  And I think that part of it has to do with our inability, our failure, to reach those voters effectively.  Part of it is Fox News in every bar and restaurant in big chunks of the country, but part of it is also Democrats not working at a grassroots level, being in there, showing up, making arguments."  (Emphasis added.)  (Jann S. Wenner, RollingStone.com, 11/29/2016)
However, by offering a continuation of four more years, Clinton reminded voters of the past seven and a half years.  Secretary of State Clinton lied about the reason the U.S. compound in Benghazi, Libya was attacked, destroyed and four Americans died — a video caused the violence.  She deleted 30,000 work-related emails on her unsecure private server.  Her State Department "reset button" did not reset our relationship with Russia.  In addition, Secretary Clinton signed off on the sale of uranium to Russia, which gave the Russians control of one-fifth of all uranium production capacity in the United States.  (The New York Times, 4/23/2015)
Furthermore, maybe Americans were tired of the United States leading from behind.  Tired of government forced health care penalties.  Tired of the debate about which bathrooms children should use in public schools.  Tired of illegal immigration and the lax enforcement of existing immigration laws by the federal government.  Tired of a $19 trillion national debt.  Tired of an environment created by the extreme radical left where police officers are being targeted and killed.  Tired of the Federal government playing favorites with companies such as the bankrupt solar panel company Solyndra.  Tired of wasteful government funding, for example:  nearly $1.5 million in "shovel ready" federal stimulus spending for a University of San Francisco study of erectile dysfunction of overweight middle aged men and accurate reporting of someone's sexual history (NBCBayarea.com, 5/17/2012).  Furious about a $1.7 billion deal with Iran to curb its nuclear development activity, of which $400 million in cash was delivered secretly by plane to Iran the same day Iran released four American prisoners. (CNN.com, 8/4/2016)  No quid pro quo.  This was not ransom.
On Dec. 19, 2016, the Electoral College met in all fifty states, cast votes and finalized the election process.  The final tally was 304 votes for Trump vs. 227 votes for Clinton.  Ohio Governor John Kasich received one vote from a Republican Texas elector.  Former Texas Congressman and Republican Presidential candidate in 2008 and 2012 Ron Paul received one vote.  Democrat Vermont Senator Bernie Sanders received one vote from a Democrat elector in Hawaii.  In Washington state, three electors cast their votes for former Secretary of State Colin Powell.  Another Washington elector voted for Faith Spotted Eagle, a member of the Sioux tribe from South Dakota — not for Clinton.  (TheWashingtonPost.com, 12/19/2016)
In Jan. 2009, newly elected President Obama told House Republican Whip Eric Cantor:  "Elections have consequences.  I won."  (Forbes.com, 6/5/2016; Politico.com, 1/23/2009)  The 2016 Presidential election clearly offered two divergent visions for America.  The voters rejected the "government is the answer" polices of Hillary Clinton, Barack Obama, and Bernie Sanders.
Just as voters wanted change and took a chance in 2008 on a U.S. Senator from Illinois, the voters wanted change in 2016 and decided to give Donald Trump a chance.
Algis Šilas is the founder of Campaign Research Associates, a political and corporate research-consulting firm, and Liberty Features Syndicate contributor.