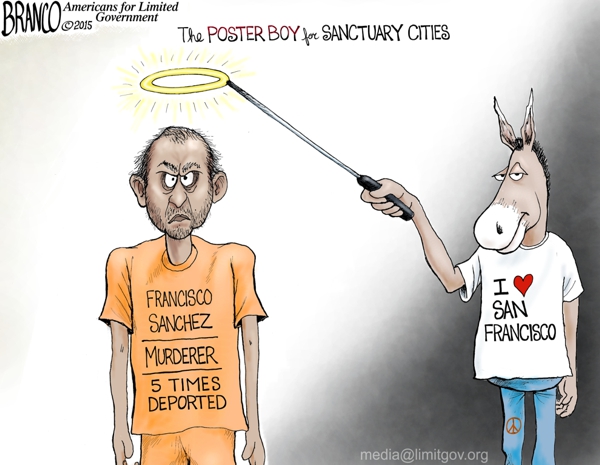 By Natalia Castro
President Donald Trump entered his earliest rallies and his inauguration among crowds cheering "build the wall!" Now, he will finally do it. On Wednesday, Trump announced his plans for not only the border wall but also vowed to enforce immigration law across the board, effectively removing sanctuary cities from their corrupt practices.
Trumps newly signed executive order, Border Security and Immigration Improvements which serves to "secure the southern border of the United States through the immediate construction of a physical wall on the southern border, monitored and supported by adequate personnel so as to prevent illegal immigration, drug and human trafficking, and acts of terrorism."
Trump did not stop there, though. The second executive order signed the strengthening of immigration enforcement and expedition of deportations. He is not doing this alone; the international community has given Trump the nod of approval.
As the Chicago Tribune reported on Jan. 25, Trump promised to work in partnership with Mexico and will have "close coordination" with Mexico to address drug smuggling, according to Trump.
Despite drawing support from the international community and National Border Patrol Council official union who tweeted their support saying "Today marks a new day for border security and immigration enforcement," Trump has reinvigorated one angry group: sanctuary cities.
These cities, known for defying federal immigration law to provide a safe space for illegal immigrants living in their borders, have been directly targeted by the Trump administration. Sanctuary cities do not simply defy federal law, they burden their taxpayers as immigrants free load the system and delegitimize the law of the land for their own purposes.
As the Chicago Tribune expressed, just as Trump signed his immigration enforcement orders, "Roughly 50 people turned out to urge city leaders to resist Trump's deportation policies, maintain Chicago's sanctuary status and call on community members to organize."
Currently 50 cities across the country have pledged sanctuary city status; with 4 cities — 3 in Vermont alone — pledging their security for illegal immigrants immediately following Trump's election.
Former President Obama allowed these cities to violate federal law and remain unpunished, but that ended yesterday. The Trump administration has made it clear federal law supersedes state law, affirming the Constitution it always has and it always must.
The second executive order, Enhancing Public Safety in the Interior of the United States signed by President Trump clearly notes, "Sanctuary jurisdictions across the United States willfully violate Federal law in an attempt to shield aliens from removal from the United States.  These jurisdictions have caused immeasurable harm to the American people and to the very fabric of our Republic. In furtherance of the policy described in section 2 of this order, I hereby direct agencies to employ all lawful means to ensure the faithful execution of the immigration laws of the United States against all removable aliens." It also deputizes state and local law enforcement agencies to enforce federal immigration law via federal-state agreements under 18 U.S.C. § 1357(g), which permits such arrangements.
The executive order continues to vow that it will "ensure that jurisdictions that fail to comply with applicable Federal law do not receive Federal funds, except as mandated by law."
A CBS Colorado report reveals in the large sanctuary city of Boulder, the city council predicts it could lose $18 million in federal funding, primarily in the transportation sector. Trump is effectively forcing cities to enforce the laws President Obama allowed them to ignore — that is, if they still want federal funds.
After President Trump invited two Arizonan victims to illegal immigrant violence to the Oval Office Wednesday for the signing of the orders, Arizona Congressman Andy Biggs applauded Trump's commitment to safety. Biggs noted, "In the first week of his administration, he has proven his commitment to protecting Americans and keeping his promises. President Trump is showing through his actions that the American people can take him at his word."
But Congressman Biggs also reminded that executive orders are far too easy for another president to overturn, and urged congress to continue Trump's efforts. Biggs wrote, "It is up to Congress to ensure that legislation to secure our border and protect American citizens is passed and sent to the President's desk to be signed permanently into law. For this reason, I will continue to fight for the passage of Grant's Law to ensure that no future administration can blatantly disregard our nation's immigration laws or the safety of our citizens."
Grant's law would require federal immigration authorities to detain illegal immigrants accused or convicted of serious crimes and deport them within 90 days, a direct counter to the "catch and release" policies of the Obama administration.
President Trump's announcement on immigration was the first step in making America secure once again. With Congress behind him, he should find ease in instituting this policy. The key is the rule of law and with today's orders, enforcing the laws that keep our nation protected.
Natalia Castro is a contributing editor at Americans for Limited Government.