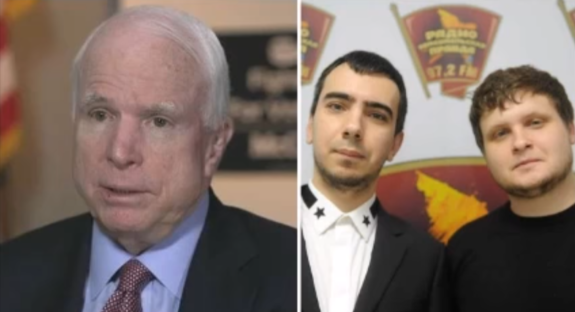 Now we know why Sen. John McCain (R-Ariz.) was so eager to believe the cooked-up dossier on Russia, Wikileaks and President Donald Trump that was eventually published and discredited by Buzzfeed, because he will apparently believe anything.
Gateway Pundit reports an early February bizarre, recorded conversation with Russian comedians Vladimir Kuznetsov and Alexei Stoliarov — known as Vovan and Lexus — posing as Prime Minister of Ukraine Volodymyr Groysman in a prank phone call, wherein what sounds a whole lot like McCain's voice discussed key national security issues on U.S. policy towards Ukraine and Russia.
A request for comment to McCain's office on Feb. 17 was not returned.
In the conversation McCain apparently conveyed that "it's important for us to provide lethal defensive weapons to your country and do it immediately," previewing a Feb. 2 letter to President Donald Trump and statement he was ready to put out urging the administration to arm Kiev. The U.S. arming Ukraine would mark a dramatic escalation of the civil war there and of U.S. involvement in that region.
McCain also advised Ukraine to push for entering NATO, saying, "If I were you I would just restate our desire to be a member of NATO and let's see what happens in the next few months."
McCain even discussed which sanctions he was planning on pursuing legislatively on Ukraine's behalf: "I think it's against advisers and companies that engage in these activities, but our first challenge is to make sure that the existing sanctions are not lifted."
But McCain was unsure specifically who would be sanctioned but offered to pass along that information to Groysman to be previewed: "We haven't gotten that far yet. Probably it was sanctions against their commercial activities and other financial institutions, but I can get that to you. I thank you, sir, and I look forward to seeing you. We'll win this fight, we'll win."
This is not the first time McCain has promised to offer assistance to Ukraine. McCain and his colleague Sen. Lindsey Graham (R-S.C.) recently traveled to Ukraine, promising arms and equipment in a New Year's celebration with Ukrainian troops that was filmed, saying, "I am convinced you will win. We will do everything we can to provide you with what you need to win."
The security risk McCain apparently now poses is almost unbelievable, but here we are. It is not at all obviated by the fact that McCain and his staff were apparently duped by a pair of Russian comedians posing as the Ukrainian Prime Minister. That actually makes it worse, since he and his staff apparently cannot tell the difference between potential Russian agents and Ukrainian heads of state.
Which how can that possibly happen? Somebody with a Russian-sounding accent calls the Senator's office, says he's the Prime Minister of Ukraine, and what, they just patch him right through? It's apparent that McCain's office is in disarray and they've got a lot of work to do. Perhaps McCain got his security clearance from Hillary Clinton.
The comedic pair apparently fooled Graham in a similar call, wherein Graham discussed his plans to push through additional 67-vote veto proof sanctions against Russia in the Senate. In the past, Vovan and Lexus have tricked celebrities like Elton John. Just this past week they also got U.S. Rep. Maxine Waters.
Ironically, Vovan and Lexus, still posing as Groysman, warned McCain that his phone conversations were possibly being tapped by Moscow. McCain responded, "I thank you very much for that information and I will certainly be aware of it as to the content of my conversations as far as any national security issues are concerned."
But then McCain recklessly charged forward in the conversation anyway, going on to discuss potential new sanctions.
There should be an immediate investigation into McCain and Graham's ties to Ukraine, their ongoing freelance foreign policy, their offers to send arms there and involve the U.S. in the civil war in Ukraine, their push to initiate more sanctions on Russia at Ukraine's behest, and even to encourage Ukraine to take the provocative step of formally requesting NATO membership.
These ongoing attempts to set U.S. foreign policy and draw us into conflict with Russia via independent, reckless diplomacy are unacceptable and inappropriate, particularly since it appears to be designed to undermine Trump's stated U.S. policy to engage with Russia. To do it in the current climate of escalating tensions is nuts. McCain is setting his own policy in Ukraine, and making an already dangerous situation even more so by fomenting the civil war there, and threatening to get the U.S. involved in what could be a direct confrontation with nuclear-armed Russia.
This is why the president alone has power under Article II of the Constitution to conduct foreign relations on behalf of the U.S. and not a council of senators. It is so that on the world's stage, we have one official spokesperson. McCain can propose we go to war over Ukraine via legislation, but that is a debate for the halls of Congress and the American people — not foreign leaders. This goes to the heart of the separation of powers which, McCain, a one-time Republican nominee for president, ought to respect.
Robert Romano is the senior editor of Americans for Limited Government.