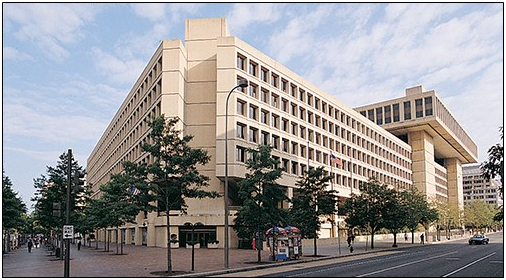 By Richard McCarty and Printus LeBlanc
One of the many important decisions that the Trump Administration has yet to make, is where to relocate the Federal Bureau of Investigation (FBI) headquarters. The current headquarters, which is outdated and crumbling, is in the District of Columbia (D.C.). Several years ago, the Obama Administration began the process of planning the move.
Consideration was limited to just D.C., and nearby localities in Maryland and Virginia. Ultimately, three locations in two counties were chosen for further study. The two counties being considered are Maryland's second most populous county, Prince George's, and Virginia's most populous county, Fairfax.
The new headquarters is expected to cost well over $1 billion and house about 11,000 employees with an annual payroll of hundreds of millions of dollars.
Currently, the decision is on hold pending Congressional authorization of funds for construction. This is good news, because there are several reasons why the Trump administration might wish to allow more localities to compete for the headquarters.
For example, one the localities under consideration, Prince George's County is a sanctuary jurisdiction — meaning that they do not fully support and even obstruct the enforcement of federal immigration law.
According to the Center for Immigration Studies, which keeps track of sanctuary jurisdictions using data obtained from U.S. Immigration and Customs Enforcement of municipalities that refuse to comply with federal detainer requests when illegal immigrants are incarcerated, Prince George's County is a sanctuary jurisdiction.
In 2014, the county executive decided that the county would refuse to comply with ICE requests, unless ICE procured a judicially issued warrant as opposed to the administrative warrants used by the agency.
In 2016, the county board unanimously passed a resolution calling ICE's immigration enforcement procedures "unduly aggressive."
This year, after President Trump signed an executive order to cut off funding to sanctuary jurisdictions, the Prince George's county executive defiantly stated, "It doesn't matter what President Trump says… We're not changing; we're not afraid of what the president has said…"
And making matters worse, the Maryland legislature is set to pass a bill that would make Maryland a sanctuary state. Maryland State Senator Victor Ramirez (D- Prince George's) has introduced the "Maryland Trust Act". The legislation would prohibit police officers from questioning victims and those arrested about their citizenship or place of birth. It would also bar local law enforcement from assisting in immigration enforcement operations. The legislation has a companion bill in the House, which has already passed.
Gov. Larry Hogan has indicated he will veto the legislation, should it reach his desk.
The recent alleged rape of a young 14 year-old girl by two men, Henry E. Sanchez 18, of Guatemala and Jose O. Montano, 17, from El Salvador, in Rockville's Montgomery High School, has further exacerbated the situation. Many Marylanders are only now realizing they already live in sanctuary community.
Gov. Hogan should hold firm on his promise to veto the sanctuary legislation, and go further by demanding that all counties in Maryland enforce federal immigration law. If Hogan needs a hook, he can point to the new FBI headquarters proposal and note that losing its bid could mean, from the state legislature's a forfeiture of millions in tax revenue to the state.
Even if the bill fails, there is absolutely no reason the FBI headquarters should be located in a sanctuary county like Prince George's. The Trump Administration should reopen the search for a new location for the FBI headquarters.
Americans for Limited Government President Rick Manning, a Maryland resident, noted in a statement, "President Trump promised to defund sanctuary cities and counties in his Jan. 25 executive order, and Prince George's County should be automatically disqualified from consideration for building the FBI headquarters. It would simply be inappropriate to locate the nation's preeminent law enforcement agency in a community that refuses to support the rule of law, particularly given Trump's ban on federal dollars going to sanctuary jurisdictions."
Manning added, "Prince George's opposition to immigration law enforcement should not be rewarded with a giant development and jobs program which would dump millions of dollars in tax revenue into county coffers. Any other sanctuary jurisdictions should similarly be disqualified."
Surely, somewhere in America, a locality can be found that actively — and not just grudgingly — supports the enforcement of our immigration laws.  A community that respects the constitution and rule of law deserves to house the FBI, not a community that flouts federal law.
Richard McCarty is a senior research analyst at Americans for Limited Government. Printus LeBlanc is a contributing reporter at Americans for Limited Government.