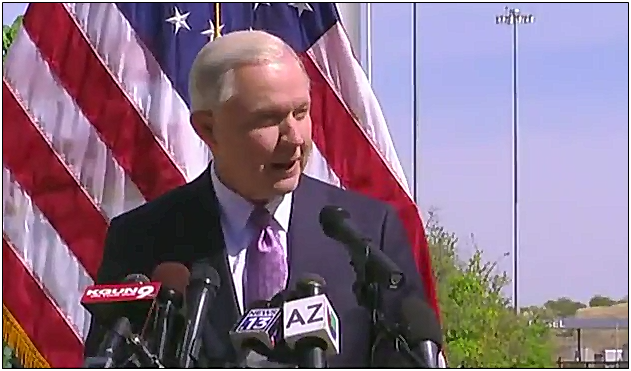 By Natalia Castro
Attorney General Jeff Sessions has taken a trip to the border to get a firsthand idea of how to solve America's illegal immigration crisis. As he returned from Nogales, Arizona where he met with Customs and Border Patrol personnel on April 11, Sessions appeared to be bringing with him greater border security, but there remain key issues of contention have still yet to be addressed.
Through a memorandum for all federal prosecutors, Sessions has called for an increase in the enforcement of several notable immigration laws and an increase in penalties for breaking these crimes as well.
To curb the entry and reentry of illegal immigrants, Sessions has asked prosecutors to increase sentencing for bringing in and harboring certain aliens; improper entry by aliens; reentry of removed aliens; aggravated identity theft and fraud or misuse of visas, permits, and other documents; and assaulting, resisting, or impeding officers. Sessions requested that prosecutors enforce these charges to the fullest extent of the law, following through on the law and order approach President Trump heralded in his presidential campaign.
But the Department of Justice is not just trusting prosecutors to follow through on his vision, as the Sessions memorandum explained, "In furtherance of these objectives, I also direct every District to designate a Border Security Coordinator… These Coordinators will be responsible for overseeing the investigation and prosecution of the offenses listed above; attending training programs with other Coordinators regarding these offenses; providing legal advice and training to AUSAs regarding these offenses; and maintaining and routinely reporting prosecution statistics related to these offenses."
These coordinators will work with Immigration and Customs Enforcement, Homeland Security Investigations, U.S. Customs and Border Protections and U.S. Citizenship and Immigration Services to connect federal immigration policy to local law enforcement. The Department of Justice is tackling illegal immigration head on at the local, state, and federal level to ensure complete compliance.
As Sessions confronts concerns about illegal entry and reentry to the country, he has also begun attacking the bureaucratic backlog of immigration cases.
During his public address in Arizona, Sessions pledged, "We will put 50 more immigration judges on the bench this year and 75 next year. We can no longer afford to wait 18-24 months to get these new judges on the bench…I have implemented a new, streamlined hiring plan. It requires just as much vetting as before, but reduces the timeline, reflecting the dire need to reduce the backlogs in our immigration courts."
Sessions also noted that the Department of Justice has already added 25 judges to detention centers along the border.
One topic Sessions neglected to mention during his trip to the Southern border was the status of President Obama's Deferred Action for Childhood Arrivals, which provides illegal immigrants who enter the country as minors with protection from deportation. There was also Obama's amnesty for millions of illegal immigrants with U.S. born children that has yet to be addressed.
Despite campaigning against this program, which has granted amnesty to nearly 800,000 undocumented immigrants, both Trump and Session have remained silent on the issue — for now. It may eventually be addressed, but not as of this writing.
As Attorney General, Sessions appears to be making progress in halting the ability for immigrants to enter the country illegally. If he succeeds, his efforts will allow President Trump to check off curbing illegal immigration as an accomplishment during his first 100 days, but this progress must not end. The Obama era of lawlessness and amnesty must finally end; Sessions and Trump must prove they are willing to finish the job and repeal Obama's harmful policies, including any and all amnesty.
Natalia Castro is a contributing editor at Americans for Limited Government.