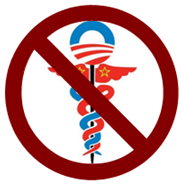 By Natalia Castro
Republicans simple message of repeal and replace seemed to get lost during their first attempt at overhauling the Obamacare health system through the American Health Care Act (AHCA). However, to finish off his first 100 days in office, President Trump has worked diligently with Freedom Caucus Chairman Mark Meadows (R-N.C.) and House Speaker Paul Ryan (R-Wis.) on a solution.
While the full text will not be released until next week, early reports may bode well for conservatives.
Politico released an outline of the MacArthur Amendment to the American Health Care Act, a deal brokered between the White House, the Freedom Caucus, and the centrist Tuesday Group led by Tom MacArthur (R-N.J.).
The amendment would reportedly allow states to apply to receive "limited waivers" to opt out of programs such as Essential Health Benefits and community rating rules; these federal guidelines set minimum benefits that health plans must offer and forbid insurers from charging different prices to people based on health status.
As the draft summary clarifies, "States must attest that the purpose of their requested waiver is to reduce premium costs, increase the number of persons with healthcare coverage, or advance another benefit to the public interest in the state, including the guarantee of coverage for persons with pre-existing medical conditions."
This plan is already doing what both Obamacare and the original AHCA failed to do — allow states control over their own costs by giving them an opt-out of Obamacare's most expensive regulations.
Politico continues to explain that states opting out of the community rating rules would be required to set up an "invisible risk-sharing" program, pushed my Meadows. Per the report, "The hope is that protecting insurers from the most expensive customers will bring down the costs for the rest of the risk pool. That will allow insurers to lower premiums, which in turn will entice more customers into the individual market."
Health Affairs writer Timothy Jost compares this program to similar programs implemented in Maine and Alaska which reduced premiums in the individual market in both instances. Jost explains, "Invisible risk sharing avoids the problems of traditional risk pools — instead of segregating high-cost individuals in separate insurance programs where they would likely face higher premiums and interruption of continuity of care, it offers them the same coverage and access to the same providers as would be available to healthier enrollees for the same premium."
Unfortunately, the drafted summary does not appear to include the removal of the AHCA's 30 percent premium hike for 12 months for those who insurance lapses after 63 days, nor does it discuss a person's ability to buy insurance across state lines or the issue of insurance tax credits. Both were elements conservatives considered critical faults for in Ryan's original legislation.
The devil is clearly in the details. While a health care plan that expands states' control sounds like music to conservative's ears, the first version of this bill was evidence enough that caution is warranted. As negotiations continue, there may be much left to be decided, but this week's news shows hope for celebration, possibly in the first 100 days.
Natalia Castro is a contributing editor at Americans for Limited Government.