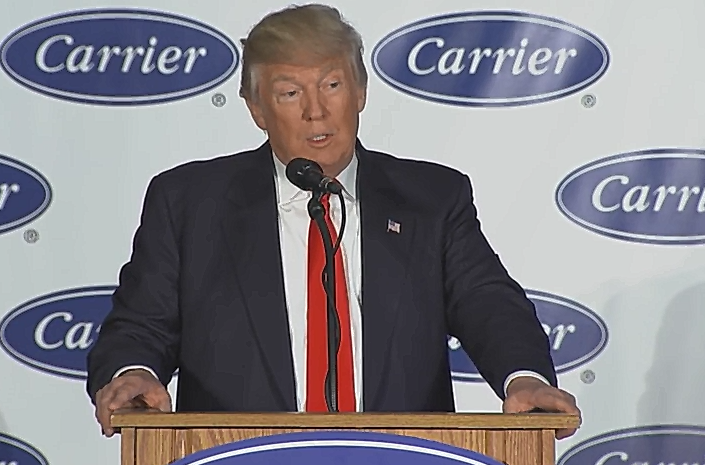 By Natalia Castro
President Trump completely changed the electoral map in 2016. Now, he has enacted policy through a new Executive Order which will continue to serve the unique coalition of conservative and union households he attracted.
Trump has ignited a flame under new Republican voters, and his message is one that other GOP politicians would be wise to listen to as we begin the mid-term election season.
Trump's most recent executive order entitled "Buy American and Hire American," re-inforces the values of both blue-collar workers and conservatives who provided Trump's margin of victory, particularly in the Rust Belt. Here, Trump is attempting to follow through on some of his most basic promises, to get Americans back to work and to get a handle on our nation's immigration system.
Buy American seeks to ensure that steel, iron, and manufactured goods which the United States has received from other countries are now incentivized to be produced and bought in the United States through federal financial assistance awards and federal procurements. The executive order defends that this will "promote economic and national security and to help stimulate economic growth, create good jobs at decent wages, strengthen our middle class, and support the American manufacturing and defense industrial bases."
Meanwhile, Hire American focuses on the restructuring of our national visa system and promised to "rigorously enforce and administer the laws governing entry into the United States of workers from abroad" with the goal of raising wages and employment rates for U.S. citizen workers.
Trump announced this Executive Order in a symbolic and politically potent area, Kenosha Wis., one of several solidly blue states Republicans turned in 2016.
As Abby Phillips of the Washington Post reminds, "The return to Wisconsin is a first for Trump, who narrowly won the state by about 27,000 votes over Democrat Hillary Clinton. But the victory punctured a decades-long history of Rust Belt states remaining solidly in the Democratic column. During the campaign, Trump railed against free-trade deals, outsourcing of U.S. jobs and the death of American manufacturing in states like Wisconsin, Michigan and Pennsylvania."
Trump effectively mobilized a voting block that had been disenfranchised for years by Democrats. The executive order reflects the two constituencies Trump has been working for consistently.
Buy American has been supported by Democrats rather than Republicans in the past, in fact, Sen. Tammy Baldwin (D-Wis.) has offered nearly identical legislation to Trump's action. Yet, Hire American is a clear conservative push.
Trump won because blue collar workers and union households in Wisconsin, Michigan, Ohio and Pennsylvania joined with their conservative counterparts to flip those states red. Now Democrats are trying to turn them back.
Already, Democrats like Baldwin have seen they need to connect with the silent majority in the country that elected Trump and so are attempting to outflank him. Baldwin pushed Trump to take the additional step to ensure countries "buy American", since several major trade agreements provide waivers to 59 nations to avoid this policy.
Lori Wallach, director of Public Citizen's Global Trade Watch, explained to The Nation, "If President Trump is serious about strengthening 'Buy American' and delivering on his pledges to create more American manufacturing jobs, he could immediately withdraw with 60 days written notice from World Trade Organization procurement rules with no penalty and invoke his executive authority to reverse all 59 trade pact Buy American waivers."
To be sure, the Trump executive order does order agencies within 150 days to "assess the use of waivers within their agencies by type and impact on domestic jobs and manufacturing." So, something may yet be coming down the pike that does just that.
In terms of managing the base that got him elected, Trump took a great first step, but as he told residents of Wisconsin last week, "We've lost 70,000 factories since China joined the World Trade Organization.  And you've seen that and you've heard about it — 70,000… But this election, the American people voted to end the theft of American prosperity.  They voted to bring back their jobs — and to bring back their dreams into our country." In other words, there's a lot of work to be done by the metrics Trump used to be criticize the state of the U.S. economy in 2016.
Trump must continue catering to both his conservative constituency angry about Obama's neglect on immigration and the blue-collar workers who are demanding a resurgence of manufacturing and other industries that have been exported overseas.
Moving into midterm election season, Republicans cannot risk an upset which would send Congress into Democratic control. Trump and Republican re-election hopefuls must be even more Trump than Trump has been, pushing for the working class alongside conservative principle issues.
Across the country, Trump's constituency may be embracing what he is doing, but Republicans in Congress must be supportive as well if they hope to remain in power during the midterm battle with the constituency that elected the GOP to majorities in 2016.
Natalia Castro is a contributing editor at Americans for Limited Government.