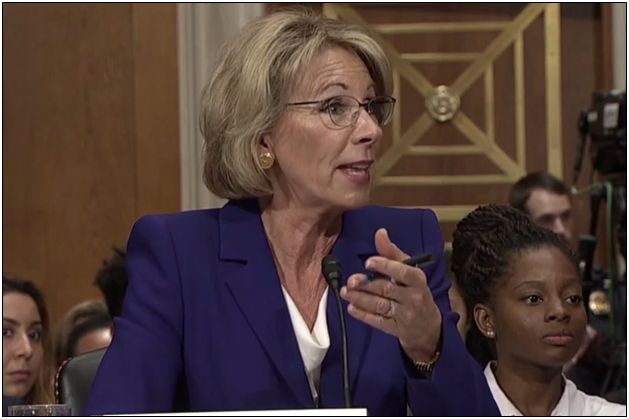 By Natalia Castro
Democrats love school choice, that is, as long as only their students get to choose. Luckily, President Donald Trump is leveling the playing field for students in his backyard, with hopes that legislators around the country will do the same.
Trump and Congress acted early this month to increase funding for the D.C. Opportunity Scholarship Program — the only federally funded voucher program in the nation and largely viewed as a case study for the success of school choice.
And we know it works, because even Democrats who traditionally oppose this legislation have skirted the rules to get their children into it. Two appointed officials working for D.C. Mayor Muriel Bowser (D) are currently under investigation for providing the mayor's office members preferential treatment to avoid the lottery system and attend voucher schools.
This is no surprise considering Vice President Mike Pence explained, "While only 69 percent of D.C. public-school students graduated from high school last year, a stunning 98 percent of scholarship recipients walked across the stage to receive their diploma. And 86 percent of those graduates were accepted into college to continue their education and to continue climbing the ladder of opportunity."
The D.C. program has had resounding success, and it is not alone. Programs that incentivize school choice, from vouchers to charter schools, have had success in local districts across the country.
In Indiana, a state with one of the most accessible voucher programs for impoverished students, more than half of the states voucher recipients have never had to attend a public school. The Washington Post of Dec. 2016 found that, "Indiana's program has succeeded in reaching children who otherwise would not have the chance to attend private schools," noting its assistance particularly to students with disabilities who often fall behind in traditional school settings.
Indiana's program has been consistently funded since 2011; allowing the state to provide vouchers to students with household incomes up to 150 percent of the free and reduced price lunch guideline, students with Individual Education Plans (IEP) and students whose neighborhood public school is assigned an F rating.
By providing greater choice to parents, Republican legislators in Indiana have vastly improved students access to quality education.
The Boston Globe provided a four-part series detailing the success of charter schools in Boston. The series found the success of these schools most startling; charter schools produced 11 percent more graduates than Boston public schools, with a student body made of 43 percent students in poverty.
Charter schools and voucher programs have broken the gates of generational poverty, while federal education policy affecting states has consistently fallen flat.
No Child Left Behind and Every Student Succeeds Act both attempted to federalize education but only reduced parent, teacher, and students choice, thus, limiting access and control of education.
The answer is clear — let states handle education. And states should implement school choice policies.
It has worked in D.C., it has worked in Indiana, it has worked in Boston, and countless other districts across the country.
In 2016, the Fordham Institute published the worst cities in the country for school choice — ranking Albany, Austin, Pittsburg, and Charlotte as the worst.
With Republican state legislators in Texas, Pennsylvania and North Carolina there is no reason for these states to continue failing their students.
Charter schools and voucher programs work. The evidence is clear and the people want school choice, so these legislators need to provide it. A solution is not going to come from the federal government, state governments must accept their responsibility and follow the Presidents trend.
Natalia Castro is a contributing editor at Americans for Limited Government.