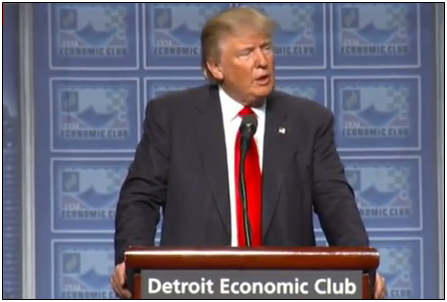 Michigan. Pennsylvania. Ohio. Wisconsin.
Besides Florida and North Carolina, these were the Rust Belt swing states that put President Donald Trump over the top in the Electoral College in 2016, and without which, Hillary Clinton would be President today.
These Rust Belt states — dubbed the "Blue Wall" — had broken Democrat the past few election cycles. But this time, largely on the strength of disaffected Democrats, union and conservative households attracted by Trump's America first economic message on trade, immigration, and jobs, broke Republican for the first time in decades.
It was the message of economic nationalism that Republicans also owe their majorities in Congress to, and thus their once-in-a-generation mandate to govern with the House, Senate and White House all under the GOP banner.
Other important messages played as well, including Trump's non-interventionist positions on foreign policy — in Syria prominently but elsewhere too — that also helped bring on independents and other non-Republicans into the fold. Now with the President's proposed surge in Afghanistan, this core constituency's commitment to Trump will surely be tested.
All the more reason Trump needs to stick to his agenda of America first on the economy — which Republicans would be foolish to turn away from now that they are in the majority.
But already, evidence abounds that Republicans in Congress and in the administration have every intention of obstructing and transforming these core aspects of the Trump agenda.
The departure of Steve Bannon as White House chief strategist — a proponent of what he calls the "economic nationalism" that Trump ran on in 2016 — stands out as an early indication that other pro-globalist forces in the administration might be prevailing and pushing Trump away from what he ran on as a candidate.
In his parting interview with the American Prospect, Bannon warned, "To me, the economic war with China is everything. And we have to be maniacally focused on that. If we continue to lose it, we're five years away, I think, ten years at the most, of hitting an inflection point from which we'll never be able to recover."
Bannon added, "We gotta do this. The President's default position is to do it, but the apparatus is going crazy. Don't get me wrong. It's like, every day."
Fortunately, Bannon was not Trump's only appointment with an eye on the how the U.S. is losing in the global economy. Trump appears to be sticking to his guns, and on Aug. 18, U.S. Trade Representative Robert Lighthizer initiated a Section 301 of the Trade Act investigation of China for discriminatory trade practices.
"On Monday, President Trump instructed me to look into Chinese laws, policies, and practices which may be harming American intellectual property rights, innovation, or technology development," Lighthizer said, adding, "After consulting with stakeholders and other government agencies, I have determined that these critical issues merit a thorough investigation. I notified the President that today I am beginning an investigation under Section 301 of the Trade Act of 1974."
According to the U.S. Trade Representative press release, "The investigation will seek to determine whether acts, policies, and practices of the Government of China-related to technology transfer, intellectual property, and innovation are unreasonable or discriminatory and burden or restrict U.S. commerce."
The administration is giving companies and other individuals that have been discriminated against by China in violation of the Trade Act the opportunity to file comments with the U.S. Trade Representative as the investigation unfolds, with a deadline for submitting comments on Sept. 28.
A similar inquiry by the U.S. Commerce Department recently found that Mexico was dumping sugar in the U.S., resulting in a settlement between the U.S. and Mexico and sanctions against Mexico.
In addition, the Trump administration has begun the process of renegotiating NAFTA, as Trump promised on the campaign trail. Starting from a position of strength, if the new agreement does not serve U.S. interests, the President is reserving the right to withdraw from NAFTA. This positioning will help Trump to get a better deal for the U.S. economy.
Finally, one of Trump's first acts in office was to withdraw the U.S. from the negotiated but never ratified 12-nation Trans-Pacific Partnership.
Fortunately, foreign affairs is an area under the Constitution where Congress' role is limited, with the President reserving the power to conclude treaties and other trade agreements. Additionally, to the extent Congress has authority under the Constitution to regulate foreign commerce, it has largely delegated large parts of that authority over to the executive branch decades ago, giving Trump a strong hand to administer trade relations abroad with the possibility of real carrots and sticks to be used.
That is, as long as Congress and the GOP establishment stays out of the way. Republicans should not take states like Michigan and Pennsylvania for granted in 2018 or 2020. Disaffected Democrats and independents who backed Trump in 2016 may not be there next time to pull the lever for the GOP — particularly if it looks like it is the GOP that wants to stop the Trump agenda. The Trump base will not be forgiving.
Robert Romano is the Vice President of Public Policy of Americans for Limited Government.