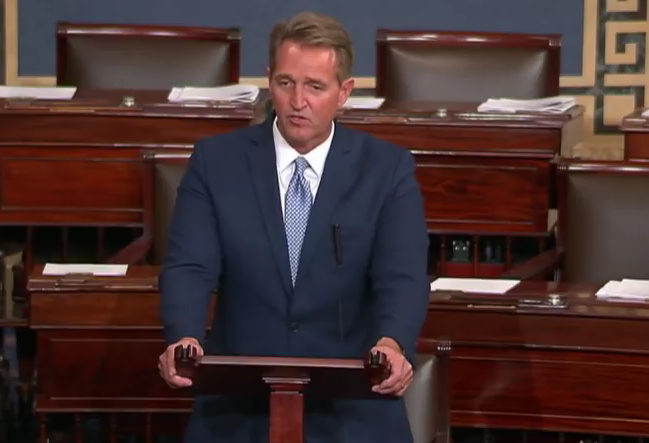 By ALG Staff
Another one bites the dust. Another incumbent Republican has decided to move toward retirement rather than run for reelection. With Arizona Senator Jeff Flake's announcement against reelection, he sends a strong message to the other Republicans in the field who have refused to back the Trump agenda — they are unwanted in Washington.
Flake's announcement comes just weeks after another Republican opponent of the president, Senator Bob Corker of Tennessee, made a similar proclamation against seeking reelection. Both Senators have been vocal critics of Trump and have actively worked to halt his agenda, for Republicans eager to win Senate primaries this year, similar vocal opposition to the Trump agenda could be more harmful than helpful.
Flake caught national media attention after writing a book critiquing Trump and his base. In the book, "Conscience of a Conservative," he explains how he diverted border patrol officers from detaining illegal immigrants working his family's farm. Consistently, Flake has opposed the tough immigration orders of the President, causing many to wonder what being a conservative means to him at all.
An essential similarity between Flake and Corker was Corker's resistance to Trump's policies.
Corker blasted Trump in a New York Times interview earlier this month, where he claimed Trump was treating the presidency like a reality TV show and that his reckless actions were threatening to start "World War III."
This is ironic, considering Corker has promoted a significantly more reckless foreign policy agenda. Corker was vital in allowing President Obama to pass the Iran Nuclear Deal, which placed Iran on a crash course to nuclear weapons proliferation.
Both Corker and Flake's aggressive attacks against Trump fueled their demise in their districts. Tennessee and Arizona both swung to Trump with 2016.
Following Trump's endorsement of Flake's primary opponent Kelli Ward in September, Flake's poll numbers plummeted. Less than a month after the endorsement, and a month of continued spats between the President and Flake, the Arizona Senator fell behind Ward by over 20 points, and his approval rating had dropped to only 34 percent.
Flakes dismissal has caused many conservative groups to urge another, even more, conservative opponent to jump in the primary. Arizona's Fourth Congressional District Representative Paul Gosar has been amongst the popular choices.
But while the Tennessee and Arizona primaries just begin heating up, other Senators hoping for a reelection bid must take note.
Nevada Senator Dean Heller is another known "Never-Trumper" up for reelection this year. He is already being challenged in the primary by Danny Tarkanian who has been quick to point out that Heller voted against the "straight repeal" of Obamacare.
The pattern is clear: Corker backed the Iran deal instead of Trump, he retired. Flake supported illegal immigration instead of Trump, he retired. If Heller continues to back Obamacare instead of Trump, his primary runs the risk of becoming unwinnable as well.
Opposition to Trump in the Senate has stalled his agenda, and the American people are clearly frustrated. Arizona and Tennessee are clear indicators that if Senators refuse to move the Trump agenda forward, their constituents will feel no reason to reelect them. The constituents called upon Trump to drain the swamp; it is now clear that those who have worked to obstruct his ability to do so will be drained by their constituents in 2018 primaries and general elections.