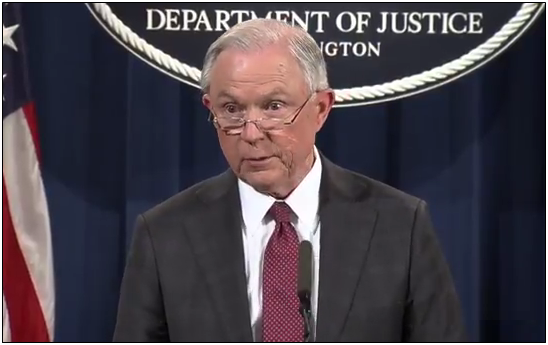 By Natalia Castro
Republicans and Democrats alike can agree that safety must be a priority for the American people, but while Republicans believe in gun ownership, Democrats favor abolition of the 2nd Amendment. None the less, the two sides have come together on one element of the gun freedom debate- violent felons should not be permitted to carry weapons. To ensure the safety of the American people, Attorney General Jeff Sessions has made getting illegally acquired guns off the streets a priority of his agenda. Making the only question- why hasn't this always been a priority?
Since the Gun Control Act of 1968, instituted by Lindon B Johnson, 18 U.S. Code § 922 has made clear:
"It shall be unlawful for any person to sell or otherwise dispose of any firearm or ammunition to any person knowing or having reasonable cause to believe that such person— (1) is under indictment for, or has been convicted in any court of, a crime punishable by imprisonment for a term exceeding one year; (2) is a fugitive from justice; (3) is an unlawful user of or addicted to any controlled substance (as defined in section 102 of the Controlled Substances Act (21 U.S.C. 802)); (4) has been adjudicated as a mental defective or has been committed to any mental institution; (5) who, being an alien— (A) is illegally or unlawfully in the United States; or (B) except as provided in subsection (y)(2), has been admitted to the United States under a nonimmigrant visa (as that term is defined in section 101(a)(26) of the Immigration and Nationality Act (8 U.S.C. 1101 (a)(26))); (6) who [2] has been discharged from the Armed Forces under dishonorable conditions; (7) who, having been a citizen of the United States, has renounced his citizenship; (8) is subject to a court order that restrains such person from harassing, stalking, or threatening an intimate partner of such person or child of such intimate partner or person, or engaging in other conduct that would place an intimate partner in reasonable fear of bodily injury to the partner or child, except that this paragraph shall only apply to a court order that— (A) was issued after a hearing of which such person received actual notice, and at which such person had the opportunity to participate; and (B) (i) includes a finding that such person represents a credible threat to the physical safety of such intimate partner or child; or (ii) by its terms explicitly prohibits the use, attempted use, or threatened use of physical force against such intimate partner or child that would reasonably be expected to cause bodily injury; or (9) has been convicted in any court of a misdemeanor crime of domestic violence."
Since this time, Republicans and Democrats have come together through legislation such as the Firearm Owners' Protection Act of 1986, signed into law by Ronald Reagan, which outlawed machine guns and most fully automatic weapons.
Illegal gun ownership is dangerous for all Americans, which is why under AG Sessions, prosecutions for unlawful gun ownership have increased by 23 percent.
Sessions explains in a memo thanking the efforts of police and prosecutors, "Law abiding people in some of these communities are living in fear, as they see families torn apart and young lives cut short by gangs and drug traffickers. Following President Trump's Executive Order to focus on reducing crime, I directed federal prosecutors to prioritize taking illegal guns off of our streets, and as a result, we are now prosecuting hundreds more firearms defendants."
Sessions continues to explain that most of these were previously convicted felons. This year, the Department of Justice is on pace to charge 12,626 defendants with illegal firearm crimes, making this the year with the most federal firearms cases since 2005.
It is a clear contrast from the efforts of the Obama Administration. Daniel D. Roberts, who in 2009 was named Assistant Director of the FBI's Criminal Justice Information Services Division, confirmed that more than 100,00 criminals each year attempt to buy guns with criminal records. Despite this fact, a June 2016 Justice Department Inspector General report revealed that from 2008 to 2015 U.S. Attorneys prosecuted less than 32 people per year for lying on federal applications to purchase guns.
Additionally, the report shows that under the Obama Administration 21 percent of cases regarding firearms transactions have "significant errors" that indicate "firearms potentially may have been transferred inappropriately" to prohibited persons.
The Obama Administration's Justice Department knew that illegal gun ownership was a problem, but did little to enforce the law and correct the problem.
This could account for some of the uptick in violent crime during the Obama presidency, considering lawful gun owners commit less than a fifth of all gun crimes. Obama's failure to prosecute illegal gun owners, failure to crack down on sanctuary cities and illegal immigration, and inability to address gang violence all allowed violent individuals to get away with heinous crimes.
From 2012 to 2016 alone, violent crime saw an uptick of 2.6 percent, according to FBI statistics.
Sessions and the Trump Administration have worked hard to reverse this trend through policies such as the prosecution of illegal gun owners. By prosecuting the unlawful gun owners Sessions is creating a safer environment for all Americans by merely enforcing the laws which both sides have said are necessary for decades. As Session proclaimed, "That sends a clear message to criminals all over this country that if you carry a gun illegally, you will be held accountable."
Natalia Castro is a contributing editor at Americans for Limited Government