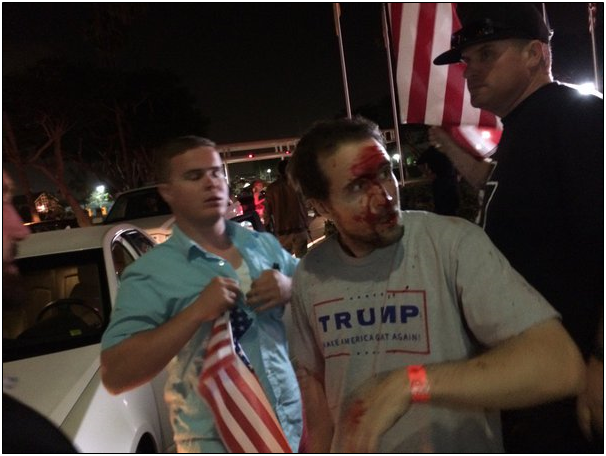 One of the most evil aspects of Nazi ideology was the dehumanization of its opponents: the Jews, communists, Poles, Gypsies, gays and so forth. It was a necessary precondition, psychologically, for what ultimately became mass murder.
But it takes other forms, too, that are harder to spot. We may use them ourselves occasionally in considering political opponents and not even realize it. The effect, though, is no less dehumanizing.
A very recent example of the dehumanization of conservatives came against Sen. Ted Cruz, who was confronted by activist Tammy Talpas over his support for repealing Obamacare, "If you force me into a high-risk pool, you will either bankrupt me or kill me. I take these threats of medical aggression personally and seriously, and I can assure you I'm not the only Texan who does. My question is: Will you pledge to submit to a DNA test to prove that you're human?"
The implication, of course, is that if you support repealing Obamacare, you lack human compassion. You're less than human.
This is a rather mild form, yet still pretty common, of dehumanization tactics by the left.
It has also been used to legitimize forms of political violence. U.S. Senator Kamala Harris (D-Calif.), said to be a serious contender for the Democratic nomination in 2020, when asked a silly question by Ellen DeGeneres on television of who she'd rather be stuck in an elevator with, President Trump, Attorney General Jeff Sessions or Vice President Mike Pence, joked, "Does one of us have to come out alive?"
Now potential political violence against the President and those in his administration has become a punchline on daytime talk shows.
Last year, other forms of political violence described against the President included portraying the assassination of President Donald Trump in Shakespeare's "Julius Caesar," or Kathy Griffin's depicted decapitation of Trump.
President Trump himself has been repeatedly portrayed as a modern-day Hitler. If you support him, you must be a Nazi. "Dilbert" creator Scott Adams has written often on the dangers of this Hitlerization of our politics.
The "punch a Nazi" campaign itself was a somewhat ironic twist of history, insofar as the dehumanizing tactic since World War II has become to portray one's opponents as Nazi monsters, in this case Trump supporters, who are similarly bereft of the right to live without fear of violence.
To be clear, neither Trump nor his supporters are Nazis. They are being portrayed as Nazis by the left, which makes it easier, psychologically, to deck one on the street.
Ask yourself: Do you own a "Make America Great Again" hat? Would you think twice before putting it on and walking down a city street today? If you answer the latter in the affirmative, congratulations, you too are a victim of political intimidation.
There is little wonder why this demonization led to violent riots in San Jose and Chicago during the election campaign with Trump supporters being physically assaulted. Then there was the attempted assassination of U.S. Rep. Steve Scalise, Sen. Rand Paul and other Republicans at a Congressional baseball game practice in June 2017 by James Hodgkinson, a radicalized nut who thought President Trump colluded with the Russians to steal the election.
This dehumanization also legitimizes using the color of law to prosecute one's political opponents, for example with Special Counsel Robert Mueller's prosecution of Trump campaign officials as somehow being foreign agents in league with Russia.
In a recent Saturday Night Live skit portraying Mueller, Becca K. played by Cecily Strong, representing Democrats, is devastated to learn that President Donald Trump might not be prosecuted by Mueller. But, Kate McKinnon, depicting Mueller, offers a consolation prize: "If it makes you feel any better, the Kush is cooked," referring to the President's son-in-law Jared Kushner as potentially being the target of prosecution.
In short, they might not be able to get the President, but destroying the First Family will have to do. That'll show him and everyone else what the consequences of opposition are.
Similarly, any communication by Trump with Russia — principal among the President's Article II constitutional power to conduct foreign affairs — is viewed as tantamount to treason.  This has manifested itself even at the White House, where almost every diplomatic visit or call with Russia instantly leaks and then is criminalized by media outlets.
Most recently President Trump's conversation with Russian President Vladimir Putin calling for talks on preventing another nuclear arms race — you know, which might prevent a nuclear war — was leaked and again used to portray the President as a foreign agent. This, despite a long history of American presidents since John F. Kennedy and Nikita Khrushchev installed the red telephone after the Cuban Missile Crisis, who engaged with talks with Russia first on strategic arms limitations and then eventually, reductions.
Elsewhere, this dehumanization has resulted in opponents of gun control measures — which really amount to gun confiscation — by the March for our Lives movement being accused of complicity in the murdering of children by Nikolas Cruz. Surviving Parkland student Cameron Kasky told Sen. Marco Rubio, at the CNN forum on Feb. 21, "Senator Rubio, it's hard to look at you and not look down the barrel of an AR-15 and not look at Nikolas Cruz." Disagree with them, and you support mass murder. You're an accomplice.
The dehumanization of the opposition can even be used to delegitimize reasonable discourse itself. There was the push to "unfriend" Trump supporters on Facebook. Actor Robert De Niro's reaction to the success of the new Roseanne show, said to be pro-Trump (perhaps insofar as it's not anti-Trump), was to suggest it wasn't worth discussing, "We're at a point … where it's beyond trying to see another person's point of view."
In 2016, De Niro blatantly used the dehumanizing tactic, calling Trump a "dog" who he'd like to "punch in the face."
Mind you, this is not merely about the animalization of the opposition, portraying opponents in the guise of animals or other creatures, often quite common for example in political cartoons. That's not what we're talking about here.
When combined with some of the other elements described above, fed by a genuine belief that the opponent truly is less than human, then yes, the animalization of political enemies — which was absolutely used by the Nazis — can become a potent weapon. Couple it with, say, a call to violence or use it to portray entire groups or races of people as subhuman, and you've probably crossed that line.
That's plenty of examples. They are by no means exhaustive. And dehumanization is not merely the province of the left, but recently it has become increasingly prevalent with gathering support in the mainstream.
It should be alarming.
But it isn't.
The Ted Cruz story where he's supposed to take a DNA test to prove he's human was shared tens of thousands of times as it was reported across media outlets almost as an afterthought. Maybe you saw it on your Facebook feed this week. It's just a joke, right?
The question perhaps we should ask is what impact this might be having on the nation at large? Because it appears that it is really beginning to take its toll.
Recall, not only can dehumanization be used to legitimize political violence, in its most extreme form, in Germany, after years of endless state-run propaganda, it was channeled toward the destruction of millions of people.
Right now, we're clearly not there yet in this country. But when one half of the nation starts to believe the other half is no longer worthy of rights or even basic respect, the country is in trouble.
There are consequences for this tactic, which on the surface may appear to simply serve a partisan agenda. Something to agitate supporters in preparation of the next round of elections. But underneath, it seems to bear all the hallmarks of pure hatred. This is not how you win elections. It's how you create social discord.
The real danger is that this demonization of Trump, his supporters, conservatives and others is that it could be generating true believers, who no longer see their opponents as fellow Americans — and perhaps not even from the same species.
Robert Romano is the Vice President of Public Policy at Americans for Limited Government.