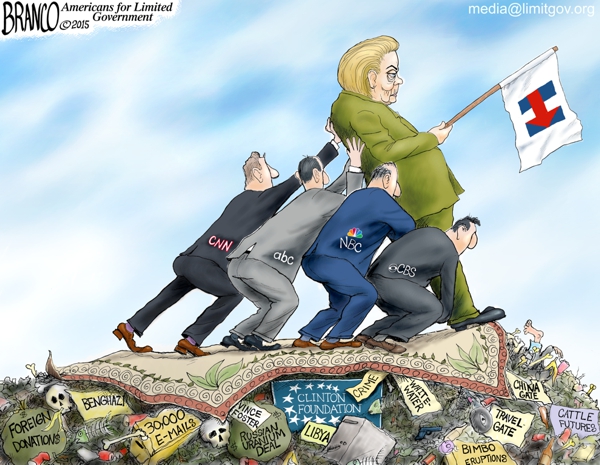 A vibrant and healthy democracy depends on the free marketplace of ideas.
Call it what you want. Viewpoint diversity. Access to alternative views.
In today's media and information-driven society and culture, being able to find the opposing view on an issue, to compare the pros and cons of public policy matters or different products and services, is critical to how the American people make decisions about just about everything.
What to buy? Who to vote for? What to watch? Which music to listen to? What to wear? The plethora of choices we have today is owed entirely to the openness of the Internet and other media that facilitates and enables brand development.
But what if that process could become compromised or disrupted in a bid to control media? To control what messages were available to the public? This is the very real danger facing policymakers today in an environment increasingly moving towards mass media consolidation.
With federal judge Richard Leon's approval of the $107 billion AT&T-Time Warner merger, allowing the two companies to combine, the floodgates are opening for content distributors like AT&T — which owns Directv — to also own much of content that plays on those platforms.
Now, Comcast is expected to bid against Disney to buy much of Fox's media content properties.
So, what's the problem? Besides the antitrust laws that are invoked by monopolization in any industry, mass media consolidation has meant fewer and fewer companies controlling almost all major media in the country.
A comprehensive Free Press 2018 study on major media ownership finds that just 21 corporations own all the television broadcast stations, 21 that own the radio broadcast stations, 13 that own pay television channels, 11 that own daily newspapers and 18 that own telecom and cable. That number keeps getting smaller every time there's another merger.
A chapter on the topic in Censored 2006 by Bridget Thornton, Britt Walters and Lori Rouse, "Corporate Media is Corporate America" noted the massive overlap of individuals who sit on the boards at major media outlets and those of non-media corporations.
Then there is the dominance in tech by Microsoft, Google, Amazon, Facebook and Twitter.
Rapidly, the number of separately owned options is dwindling.
Along with media consolidation, there is also a growing call for political consolidation in Washington, D.C. — and even one-party rule.
In April, Twitter co-founder and CEO Jack Dorsey retweeted an article by Peter Leyden and Ruy Teixeira that called for "Democratic One-Party Rule" in the U.S. as a means of reconciling the nation's challenges and implementing the progressive agenda. You see, all that debate by Congress and disagreement over which direction to go in is getting in the way of that agenda, so democracy no longer functions the way they want it to. Today's captains of the information industry are getting impatient. They want to see Utopia in their lifetimes.
It will be anything but.
But leaving that aside, forget about competitive elections, Leyden and Teixeira warn: "America can't afford more political paralysis. One side or the other must win. This is a civil war that can be won without firing a shot. But it is a fundamental conflict between two worldviews that must be resolved in short order."
The resolution: "Democratic One-Party Rule."
Dorsey's comment was astonishing, writing briefly, "Great read." Really? What about the part where the authors called for one-party rule? What about the part where they called it a civil war? No?
Just, "Great read," as if having one political party control the most powerful country in the world to govern with no dissent as the climatic outcome of a civil war "without firing a shot" was just an after-thought for the billionaire.
Who needs alternate viewpoints when there's media empires to consolidate and an undemocratic agenda to implement? Just hurry up and work it into the afternoon schedule. Dictatorship by close of business. Can we get that yesterday?
Twitter like other social media giants cast themselves as an open platform, a device for free speech basically and the marketplace of ideas. But what if big media doesn't live up to that and starts censoring political content of one of the two major parties in a bid for absolute power?
Would that be "anti-competitive" enough for Judge Leon to say it might pose an antitrust issue under federal law?
That is why the AT&T-Time Warner merger today is so important for the media landscape of tomorrow, and why the Justice Department must appeal Judge Leon's decision, all the way to the Supreme Court if necessary.
It may not happen overnight, but we are witnessing the end of media. This is the age of medium. And if we are not careful, one day there may only be one-party rule, too. That will not lead to liberty and prosperity, but to tyranny.
Robert Romano is the Vice President of Public Policy at Americans for Limited Government.