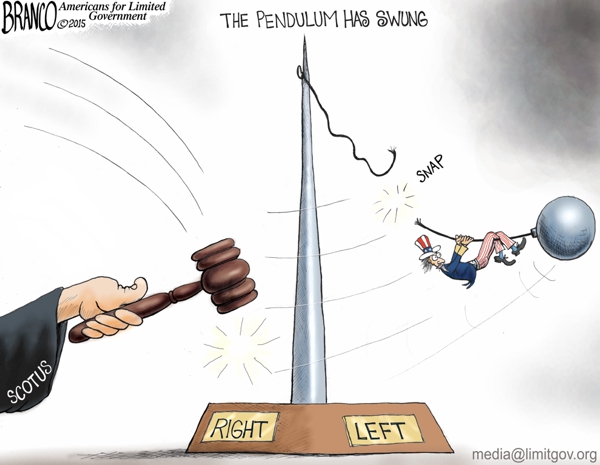 Republicans led by Sen. James Lankford (R-Okla.) are considering changing Senate rules to speed up the process of confirming nominees, and they should do so as soon as possible. In spite of continual Democrat obstruction, Republicans have done a good job of confirming judges. In fact, a total of 85 judges have been confirmed so far: two Supreme Court justices, 30 appellate court judges, and 53 district court judges.
After two years in office for President Donald Trump, that puts him at above the average of 163 confirmed every four-year term. Still, there are now more judicial vacancies than when Trump took office, and over 50 judicial nominees are awaiting confirmation.
When Trump took office, there were 125 judicial vacancies. Currently, there are 146 vacancies; and the Judicial Conference deems 70 of these vacancies to be judicial emergencies. In addition, there are 20 future vacancies due to judges planning to retire or take senior status.
While conservatives have a narrow 5-4 majority on the Supreme Court, liberals have control of most of the appellate courts. Of the 13 circuit courts of appeal, Republican-nominated judges make up the majority in four circuits, Democrat-nominated judges have the majority in seven circuits, and two circuits are evenly split. Republicans are on the cusp of flipping the 3rd Circuit, which covers Pennsylvania, New Jersey, and Delaware, and are close to flipping several more.
Why are nominations moving so slowly? Because Democrats are intentionally dragging out the confirmation process. When Republicans request unanimous consent to consider nominations, Democrats typically object. To end debate, Republicans must then invoke cloture, which requires a simple majority. Even after a cloture motion is passed, Senate rules still allow for 30 hours of debate on the nomination, and Democrats have been exploiting this.
Consequently, Senate Republicans are considering reducing the amount of debate time after cloture to two or eight hours, depending upon the office. There is already precedent for reducing debate time: in 2013, Democrats reduced debate time for many nominations.
There is no time to waste. Allowing Democrats to slow-walk judicial nominees could easily lead to many judicial vacancies still needing to be filled in January of 2021. At this point, it is far too early to tell who will win the Democrat presidential nomination, much less who will win the general election. Nor is it clear which party will control the Senate in the next Congress. Should Trump win reelection but Democrats retake the Senate, Democrats could be expected to block most Trump judicial nominees, especially those for appellate courts and the Supreme Court. Amidst all of the uncertainty, it is crucial that Republicans confirm as many judges as possible.
Of course, some will make the argument that Republicans should not shorten the amount of time allowed for debating nominations out of fear of what Democrats might do in the future. But those people may not been paying enough attention to the way that Democrats have been playing the game. For example, Democrats nuked the filibuster to confirm Obama's judges and shamelessly smeared Justice Kavanaugh at the eleventh hour in hopes of derailing his nomination. Why should anyone expect them to stop there?
For good reason, lifetime appointments to the judiciary are very important to Senate Majority Leader Mitch McConnell. Accordingly, he has devoted a lot of time to confirming judges; but the number of judicial vacancies has increased in spite of his efforts. The 30-hour debate rule was put in place with the understanding that Senators would, for the most part, behave reasonably. Democrats have not done so. Therefore, Republicans should accordingly reduce the amount of time allowed for debate after cloture has been invoked. There is no tomorrow.
Richard McCarty is the Director of Research at Americans for Limited Government Foundation.