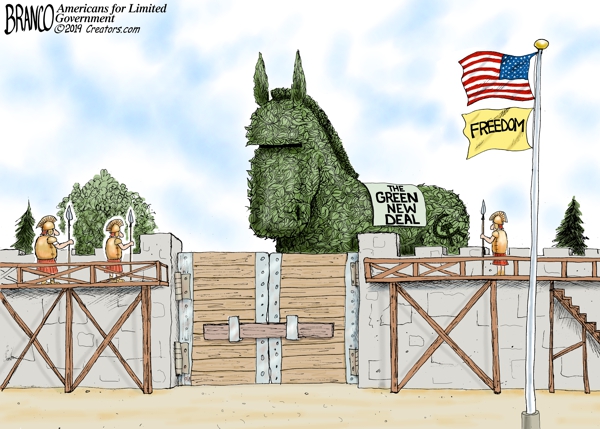 Are the American people about to vote to destroy the way of life?
If socialist Sen. Bernie Sanders (D-Vt.) is elected, his utopian promise to implement a 10-year Soviet-style Gosplan to end oil and gas consumption —the Green New Deal—will radically transform the U.S. economy, and possibly leave America in the dark and cold.
The plan, according to Sanders' website, calls for "[r]eaching 100 percent renewable energy for electricity and transportation by no later than 2030 and complete decarbonization of the economy by 2050 at latest – consistent with the United Nations Intergovernmental Panel on Climate Change goals – by expanding the existing federal Power Marketing Administrations to build new solar, wind, and geothermal energy sources."
All sources of non-renewable energy accounting for 62 percent of the electricity grid would need to be replaced. No more coal, natural gas or petroleum based electricity generation. Those aren't renewable.
In addition, 19 percent of the grid via nuclear power would come to an end, too, even though it doesn't emit carbon. New nuclear plant construction would cease under the Sanders plan.
Every building including 129 million households would all have to be upgraded to no longer emit any carbon.
Home heating and hot water heaters via natural gas and oil would all have to be replaced. So would all of your stoves if they run on fire. Are you ready for winter yet?
Every car and truck—more than 250 million—that runs on gasoline and diesel would have to be replaced.
Convenient air travel would have to be banned.
The oil, coal and gas industries will be eliminated.
To get across the country, you'd probably have to take a train. Overseas? Hope you got your sea legs.
This is a dagger pointed at the heart of Middle America. Do you commute to work in a car? Do you live in a single family home? Can you afford tens and hundreds of thousands of dollars of upgrades for your home? How about a new electric car? Does that fit in your budget?
Work in the energy industry? Drive trucks for a living? Not any more. It's job retraining camp for you.
The Green New Deal would change everything, compelling millions of Americans to probably move to warmer areas to survive as the federal government unilaterally ends the industrial revolution — the reason we're such a prosperous species — with a radical revolution of its own.
The U.S. emits about 5.1 billion metric tons of carbon dioxide every year as of 2017, according to the U.S. Energy Information Agency: 45 percent from petroleum, 29 percent from natural gas and 26 percent from coal.
Of the portion of emissions devoted to natural gas, 1.47 billion metric tons a year, only 506 million is from electricity generation. The rest is from heating homes in the winter, making hot water, cooking food and the like
And then there's the rest of the world — another 30 billion metric tons a year or so — which of course the plan fails to specify how much of that the U.S. will have to subsidize, too, in order to reach the goal of cutting emissions in half globally by 2030 outlined by the Intergovernmental Panel on Climate Change at the United Nations.
That's right. To get it done, we have to work out a cooperative plan with China, Russia, Europe and the rest of the world to halve carbon-based production that they need to keep their billions of peoples fed and warm in the winter.
How do we intend to persuade the world to commit economic suicide? Even if some sort of agreement could somehow be made, it would surely be a tyrannical scheme to arrest economic development, sacrificing an entire generation of opportunity and innovation on the altar of radical environmentalism.
This would set back economic progress for decades or longer and crash the global economy and dislodge hundreds of millions of careers.
There are also opportunity costs to be considered. What technological innovations, say in the fields of carbon capture, might have been achieved if the economy had kept growing the way it was before we willingly turned the lights out? What improvements to our lives will be foregone in the pursuit of a utopia?
In 2020, Americans will have a choice to make about which future they want to raise their children in. One where the government dictates allowances and rations resources, forces you to rebuild your homes and every other building in the country under Bernie Sanders, or one where Americans keep their liberty and the freedom to harness the gifts God gave humans to keep the economy growing.
Robert Romano is the Vice President of Public Policy at Americans for Limited Government.