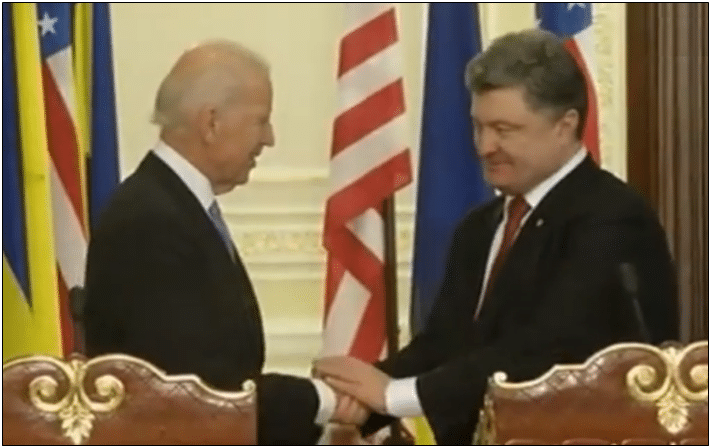 A leaked call from  May 2016 between former Vice President Joe Biden and then-Ukraine President Petro Poroshenko confirms that there was in fact a quid pro quo in Ukraine,  that is, the $1.2 billion loan guarantee from the IMF approved by the Obama administration and the firing and replacement of Ukraine's prosecutor general Viktor Shokin.
Shokin in April 2019 told journalist John Solomon that prior to the election of the new Ukrainian President Volodymyr Zelensky, he was removed in 2016 because of his investigation of Burisma, which Biden's son, Hunter, served on the Board of Directors of.
In the May 2016 phone call, Biden clearly says, "[C]ongratulations on installing the new prosecutor general, it's going to be critical for him to work quickly to repair the damage Shokin did. And I'm a man of my word. And now that the new prosecutor general is in place, we're ready to move forward in signing that one billion dollar loan guarantee."
The phone call is said to have been recorded by Poroshenko himself.
The call confirmed in part what Biden told the Council on Foreign Relations in Jan. 2018 at an event he threatened $1.2 billion of loan guarantees to get Shokin fired: "I said, 'You're not getting the billion.' I'm going to be leaving here in, I think it was about six hours. I looked at them and said: 'I'm leaving in six hours. If the prosecutor is not fired, you're not getting the money.' …Well, son of a bitch, he got fired. And they put in place someone who was solid at the time."
That was in March 2016. Shokin was then replaced by Yuriy Lutsenko.
In an affidavit in a European court in 2019, Shokin testified, "The truth is that I was forced out because I was leading a wide-ranging corruption probe into Burisma Holdings, a natural gas firm active in Ukraine and Joe Biden's son, Hunter Biden, was a member of the Board of Directors… On several occasions President Poroshenko asked me to have a look at the case against Burisma and consider the possibility of winding down the investigative actions in respect of this company but I refused to close this investigation."
This was the matter President Donald Trump sought to have Ukrainian President Volodymyr Zelensky "look into" on the July 25, 2019 phone call with current Ukrainian President Volodymyr Zelensky. In the phone call with Zelensky, Trump said, "It sounds horrible to me."
And now we know that not only has Biden said he used the loan to get the prosecutor who was looking into Burisma fired, but there was also a follow up call confirming the quid pro quo—that is the real quid pro quo by Biden.
Congressional Democrats sought to have Trump removed from office for temporarily pausing military assistance to Ukraine while he was discussing the Burisma matter with Zelensky, but the President was ultimately acquitted by the Republican-majority Senate of any wrongdoing.
Ultimately, Trump was impeached for what amounted to a thought crime, asking about the circumstances of Shokin's firing.
Now, the question remains, was Biden trying to end the prosecution of Burisma Holdings, who his son worked for? Maybe Congress should have some hearings about that. What's good for the goose is good for the gander.
Robert Romano is the Vice President of Public Policy at Americans for Limited Government.