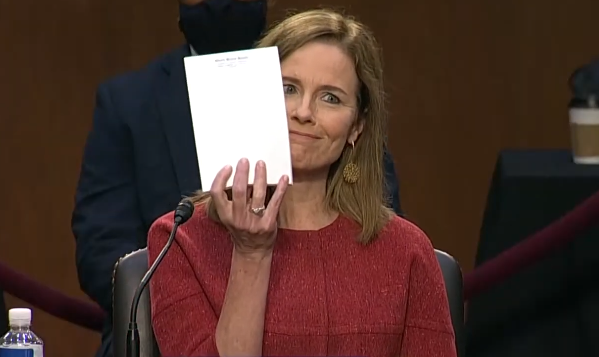 Judge Amy Coney Barrett is cruising to an easy confirmation to the U.S. Supreme Court as Senate Judiciary Committee Chairman Lindsey Graham (R-S.C.) proceeds to mark-up on the nomination today on Oct. 15, with a full committee vote to follow on Oct. 22.
And Senate proceedings are expected to be wrapped up by the end of the month, with Senate Majority Leader Mitch McConnell (R-Ky.) declaring on Oct. 9, "I'm planning on moving to the nomination as soon as it comes out of committee."
Meaning, before the election on Nov. 3, President Donald Trump and Senate Republicans will have cemented an historic 6 to 3 majority on the Supreme Court with Republican-appointed justices — while flailing Senate Democrats have barely laid a glove on Barrett.
Democrat talking points have gravitated from nonsensically demanding recusals on pending litigation on the constitutionality of Obamacare to presumed litigation following the results of the 2020 election, to talking about non-existent litigation on the constitutionality of Medicare.
Suffice to say, Barrett is not recusing herself from anything — nor should she. Every justice serving on the Supreme Court was appointed by a President and confirmed by a Senate majority of either party. Being appointed and confirmed, even in an election year, is no grounds for a recusal.
In questioning from Sen. Patrick Leahy (D-Vt.) about she might rule on election-related litigation, Barrett swept aside the notion she had a conflict of interests, stating, "I have had no conversations with the president or any of the staff on how I might rule… It would be a gross violation of judicial independence for me to make any such commitment."
On Oct. 1, Senate Majority Leader McConnell blasted the proposed standard, declaring, "Democrats are demanding that Judge Barrett commit in advance to recuse herself from entire categories of cases, for no reason. This is another totally invented standard. Nobody has ever suggested that Supreme Court Justices should categorically sit on the sidelines until the President who nominated them has left office."
Really, though. Is this all Senate Minority Leader Chuck Schumer (D-N.Y.) and Senate Democrats can come up with? This is pitiful opposition.
No wonder former Vice President Joe Biden refuses to answer any questions about abolishing the filibuster and packing the Supreme Court.
Biden needs Democratic voters to believe that there's anything left to fight for when in reality Democrats are about to lose major ground in the makeup of the Supreme Court — perhaps for another generation.
In Phoenix on Oct. 8, Biden again refused to answer a question on court-packing, stating, "You'll know my position on court-packing the day after the election."
Which, this is what Democrats must believe Biden needs to say in order to win. That if he says he won't pack the Supreme Court, that will dispirit Democratic voters who will just have to learn with the Republican-appointed 6 to 3 Supreme Court majority for the next several years. And that if he does admit he is going to pack the nation's highest court, it might galvanize opposition to his candidacy.
Rest assured, you'll just have to vote for Biden in order to find out what's in his administration. In the meantime, the Trump campaign and Republicans are all the same using his non-answer to mobilize opposition to a Biden presidency, as voters are forced to assume he would pack the court.
Of course, the obvious reason for the weak opposition by Schumer is President Trump and Senate Republicans picked up two seats in the Senate in the 2018 midterms, increasing their majority to 53 to 47. McConnell has more than enough votes to confirm Barrett easily.
Which is why when Justice Ruth Bader Ginsburg passed away last month, there was nothing left to stop President Trump from exercising his constitutional duty under Article II, Section 2 of the Constitution to "nominate, and by and with the advice and consent of the Senate, shall appoint … judges of the Supreme Court…"
After all, former President Barack Obama did not wait to try to appoint Merrick Garland when Justice Antonin Scalia passed away in 2016. He was fulfilling his constitutional responsibility to at least attempt to appoint a successor to Scalia. And so too were Senate Republicans exercising their power to just say no and wait until after the election — which worked out politically. Trump won and Senate Republicans kept their majority and Justice Neil Gorsuch was appointed.
Elections have consequences. And the results of the 2014 midterms that gave Senate Republicans a majority, the 2016 election that put President Trump in the White House and 2018 that expanded the Senate GOP majority all say that Judge Amy Coney Barrett's confirmation before the election is unstoppable.
Robert Romano is the Vice President of Public Policy at Americans for Limited Government.