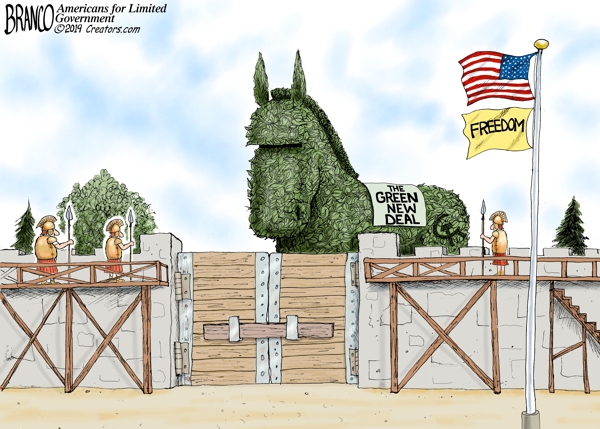 One more Supreme Court case to keep your eye on this session — especially since the Court now appears willing to strike down prior precedents — is the imminent ruling on West Virginia v. EPA that, if successful, would overturn federal regulations on carbon emissions by power plants.
It also stands to potentially overturn the Court's 2007 decision, Massachusetts v. EPA, a narrow 5-4 ruling by then-Justice Anthony Kennedy that had opened the door for federal regulation in this area in the first place by stating carbon dioxide could be regulated under the terms of the Clean Air Act even though the law never contemplated doing so.
This is what enabled the 2009 carbon endangerment finding by the Environmental Protection Agency (EPA) during the Obama administration, and the EPA rules on new and existing power plants, defining carbon dioxide as a harmful pollutant under the terms of the Clean Air Act, and setting forth a framework to incentivize coal plants to either be retrofitted to be natural gas plants or else be shut down.
In terms of moving the needle, the policy was a "success" in reducing coal-based electricity. In 2007, coal-generated electricity made up 49 percent of the total U.S. grid, while natural gas was just 21 percent, according to the Energy Information Administration. In 2021, natural gas now makes up 38.3 percent of the grid, and coal is down to 21 percent.
In the meantime, we have rising demand for electricity, and yet the U.S. is not producing a single kilowatt hour (kWh) more than it was 15 years ago. Despite the U.S. population growing by 30 million to more than 331 million from 2007 to 2021, overall electricity generation in the U.S. has dropped from 4.005 trillion kWh in 2007 to 3.96 trillion kWh in 2021.
As a result, the Consumer Price Index for electricity has increased by 29 percent since 2007, according to data compiled by the Bureau of Labor Statistics.
In short, we have a self-imposed national electricity shortage, in large part caused by the Supreme Court — and they might be about to undo it.
On the other hand, the Court could always go the other way on the issue. After all, in 1983, the Supreme Court unanimously decided in Motor Vehicle Manufacturers Association v. State Farm Mutual that in rescinding a regulation under the Administrative Procedures Act, an agency must provide a reasoned analysis, "for the change beyond that which may be required when an agency does not act in the first instance."
This leaves every rescission subject to judicial review, where you have to prove not only that rescinding the regulation in question is rational based on the statutory scheme, but prove that enacting it was irrational to begin with. That appears to be one reason why the Trump administration EPA did not go further than it did in watering down the Obama Clean Power Plan regulations.
That is how a ruling allowing carbon emissions to be regulated eventually becomes a precedent requiring carbon emissions to be regulated.
Again, it's a situation where because of Supreme Court precedents, Congress and presidential administrations appear to be hampered from responding effectively to national crises like energy shortages. It is therefore undemocratic and ultimately prevents political questions from being answered by the elected branches the way their supposed to.
The worst possible outcome would be if the Court once again accepts the central premise that carbon dioxide is a harmful pollutant that must be addressed under the Clean Air Act. At that point, there might not be an easy way to stop something like the Green New Deal's goals of imposing net zero carbon emissions within 10 years on the U.S. economy.
But we'll see what happens. This could be another big one. Stay tuned.
Robert Romano is the Vice President of Public Policy at Americans for Limited Government Foundation.