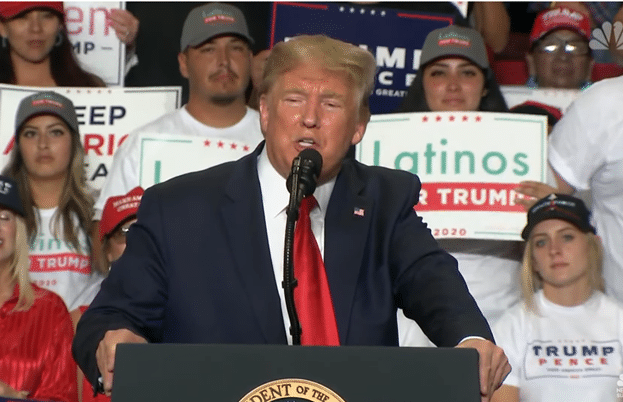 By Bill Wilson
The Hispanic shift away from the Democratic Party – and specifically the dangerously incompetent Biden administration – is something Americans for Limited Government Foundation has been watching closely. New polling shows Biden's approval rating is continuing to sink, and more Hispanics now want Trump to run for president again than want Biden to.  
The increasingly radicalized nature of the globalist elite, who prioritize lining their own pockets at the expense of the working class, handing over sovereignty to draconian globalist institutions, and weakening our ability to defend ourselves if threatened, has resulted in a significant decline in support for Democrats among Hispanics.
The latest YouGov survey shows Biden's polling numbers have sunk nearly twenty percentage points with Latinos since he took office. Former President Trump's approval rating has been climbing steadily over the same period.
The share of Latinos who say Trump should run again is up 14 points since he left office going from 22% in January 2021 to 36% today. Meanwhile, just 28% of Latinos want a Biden re-run and a solid 57% say Biden should not run again.
The exodus of Latinos away from the Democratic Party escalated in 2020 despite a relentless smear campaign from virtually all major institutions, outright censorship, and highly questionable election tactics to keep Trump out of office. Trump's share of the Hispanic vote rose from 28% in 2016 to 38% in 2020 anyway.
Despite similar tactics, Democrats suffered heavy losses with Latinos in 2022 compared to 2018. Democrats lost 21 points with Latino men, going from winning them by 29 points in 2018 to just 8 points in 2022. Latino women also supported Democrats by 14 points less in 2022 than 2018. These are not insignificant shifts, but are hard evidence that the far-left is incapable of deluding Hispanics that it is will solve the problems it creates.   
The Florida governor's race last year was a particularly stark example of the Hispanic shift, but it was Trump's ground game in 2020 that put Latino-heavy strongholds like Miami-Dade County in play. Thanks to a ground game that targeted low-propensity voters, Trump won roughly 200,000 more votes in Miami-Dade in 2020 than he did in 2016. Biden ended up winning about 8000 votes fewer than Clinton did in 2016. Trump didn't win Miami-Dade like DeSantis did in 2022, but DeSantis only achieved 74% of Trump's 2020 vote total despite winning the county. Democrats maxed out their turnout in 2016 and 2020 and Trump managed to turn out an extra 200,000 votes in Miami-Dade while Democrats simply gave up.
Whether this model can be replicated with other candidates remains to be seen, but Trump himself is a formidable force and is the frontrunner GOP pick for Latinos in virtually every poll.
There are ample reasons why Hispanics are fleeing the Democratic Party in droves, but the economy is the most glaring issue. An NBC News/Telemundo poll shows Latinos disapprove of Biden's handling of the economy 54% to 41% and disapprove of the cost of living under Biden 60% to 35%. The same poll found Latinos say 39% to 33% that Biden's economic policies have hurt more than they have helped and 54% of Latinos say their family income is declining due to rising living expenses. Latinos also disapprove of Biden's handling of border security 51% to 42%.
YouGov polls show Latinos say 51% to 35% the country is off on the wrong track, and over half say the economy is in a recession. Twenty-five percent of Hispanics cite inflation/gas prices as their most important issue, compared to 19% of Whites and 18% of African Americans. Hispanics also say by a three to one margin that inflation is a bigger issue than unemployment.
Hispanics are also extremely critical of the outcome of the 2020 election looking back. One poll found 23% of Hispanics do not believe Biden won the presidency, and less than half (43%) are excited about Biden.
An increasing number of Hispanics also blame Biden for the illegal immigrant crisis at the southern border. Hispanics disapprove of Biden's response to the immigration crisis by a margin of 41% to 37% according to YouGov surveys.
Hispanics also have major hesitations about Biden's competence. The latest YouGov survey shows a full 36% of Latinos would feel 'uneasy' about how Biden would handle an international crisis.
The same poll shows less than half of Latinos (48%) say Biden is honest and trustworthy, and a full 51% think Biden says what he wants people to hear, not what he means. Only 33% say they believe Biden says what he means.
This is in stark contrast to impressions of former President Trump. Although at times Trump used coarse language, he gave the impression that he was telling people what he thought, not what he thought they wanted to hear.
It is not only President Biden's wildly incompetent economic policies that are causing Hispanics to defect. At the core, many Latino values are simply misaligned with the pillars of the globalist left: hatred for capitalism, the rule of law, and America First values.
The NRSC Hispanic Battleground survey found Latinos support capitalism over socialism by a margin of 63% to 17%. What is more, 58% of Latinos believe too many Americans are living off the government and 50% say Democrat policies hurt families. Over two-thirds of Latinos (67%) say too many Americans are losing traditional values centered on faith, family, and freedom.
Americans for Limited Government's 2018 immigration survey found over two-thirds of Hispanics (67%) consider themselves Conservative or Moderate on economic issues, and slightly smaller shares consider themselves Conservative or Moderate on healthcare, education, and moral issues like same-sex marriage.
As the Democratic Party continues to move left on social issues and fails to address the economic concerns of working-class Latino voters, expect to see more cracks in the Democratic coalition.  Latinos have supported Democrats in recent election cycles, but that advantage is rapidly shrinking, and Biden has done more to push Latinos away from the Democratic Party than he has to build lasting support. Latinos have serious concerns about Biden's competency and they outright disagree with the major pillars of the modern Democratic Party.  
While the propagandists in the mainstream media and virtually every institution continue to vilify former President Trump, his popularity has risen with Hispanics since he left office and the economy entered a death spin. The incompetence of the globalist left to solve the issues it has created is creating an opportunity for Trump to rally economically-motivated Latinos behind America First priorities again.
Bill Wilson is the former President of Americans for Limited Government.