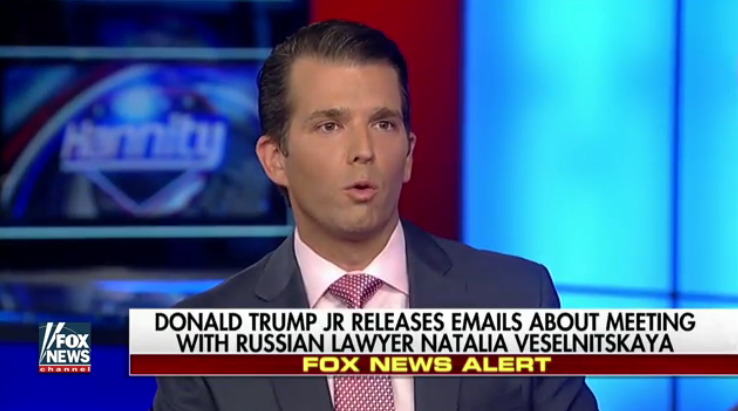 "Trump says son's Trump Tower meeting with Russians meant to 'get information' on Clinton."
"In a change, Trump says meeting's purpose was Clinton info."
Those are the headlines that blared from NBC News and the Associated Press, but they are not news at all.
President Donald Trump tweeted on Aug. 5 that "Fake News reporting, a complete fabrication, that I am concerned about the meeting my wonderful son, Donald, had in Trump Tower. This was a meeting to get information on an opponent, totally legal and done all the time in politics — and it went nowhere. I did not know about it!"
The news media then just runs with that as if it were some sort of major revelation. But we already knew that prior to Donald Trump, Jr. meeting with Russian lawyer Natalia Veselnitskaya in June 2016 at Trump Tower that he was offered "dirt" on Hillary Clinton that was never delivered.
That's not even fake news. It's not news at all.
We know that from the email chain that Trump, Jr. released on July 11, 2017, for example, when Rob Goldstone offered in an early June 2016 email that "The Crown prosecutor of Russia met with his father Aras this morning and in their meeting offered to provide the Trump campaign with some official documents and information that would incriminate Hillary and her dealings with Russia and would be very useful to your father."
We know that from Trump, Jr.'s own statements at the time, appearing on the Sean Hannity program on Fox News on July 11, 2017, where he said, "The pretext of the meeting was, hey, I have information about your opponent" and "Honestly my takeaway when all of this was going on was that someone has information on our opponent."
None of the supposed incriminating information on Clinton was apparently ever furnished, according to Trump, Jr.
But the fact that the meeting took place, the fact that the "dirt" on Clinton was offered but not delivered, none of that was in dispute, not by the President or anybody else.
There were other things discussed at the meeting, too, according to Trump, Jr. It turns out the real reason Veselnitskaya wanted the meeting was to discuss the Magnitsky Act and a U.S.-Russian adoption program that was cancelled after sanctions were put in place by the U.S.
On July 7, 2017 Trump, Jr. had issued another statement attesting to that part of the meeting, "It was a short introductory meeting. I asked Jared and Paul to stop by. We primarily discussed a program about the adoption of Russian children that was active and popular with American families years ago and was since ended by the Russian government, but it was not a campaign issue at that time and there was no follow up.  I was asked to attend the meeting by an acquaintance, but was not told the name of the person I would be meeting with beforehand."
But, again, none of that is news.
This was also not the only time Trump campaign officials were teased into meetings supposedly offering "dirt" on Clinton. The others were said to be George Papadopoulos and Carter Page.
George Papadopoulos, a former Trump campaign foreign policy advisor and campaign volunteer has pled guilty of lying to the FBI about the timing of his joining the Trump campaign and his subsequent contacts with persons he apparently believed were connected to the Russian government.
According to the statement of offense by Special Counsel Robert Mueller, in March 2016 and while in Italy, Papadopoulos met an overseas professor based in London who "claimed to have substantial connections with Russian government officials." Eventually he was introduced to a female Russian national who Papadopoulos thought was Vladimir Putin's niece — she wasn't — with the purpose being to set up an eventual meeting between the Trump campaign and the Russian government.
On April 26, Papadopoulos was teased by the professor that, according to the special counsel, "the Russians had obtained 'dirt' on then-candidate Clinton. The Professor told defendant Papadopoulos, as defendant Papadopoulos later described to the FBI, that 'They [the Russians] have dirt on her'; 'the Russians had emails of Clinton'; 'they have thousands of emails.'" This apparently was referring to the missing emails from Clinton's private server that contained classified information, and had been reported to have been hacked variously by Marcel Lehel Lazar, AKA Guccifer, the Russians and others.
This appeared a lot like the same incriminating information on Hillary Clinton that was similarly teased in the Christopher Steele authored dossier that was produced by Fusion GPS, which we now know was funded by the Hillary Clinton campaign and the Democratic National Committee via law firm Perkins Coie.
In the Steele documents, former Trump campaign foreign policy advisor Carter Page was also said to be offered the Clinton dossier: "a senior colleague in the Internal Political Department of the PA, Diveykin (nfd) also had met secretly with [Carter] Page on his recent visit [to Moscow]. Their agenda had included Diveykin raising a dossier of 'kompromat' the Kremlin possessed on Trump's Democratic presidential rival, Hillary Clinton, and its possible release to the Republican's campaign team."
Page has denied such meetings ever took place nor has he been charged with anything.
So, there were three times the Russians supposedly offered "dirt" on Clinton to the Trump campaign but was never followed through on. To what end? To get meetings to talk about the Magnitsky Act and to lobby or to get a meeting between Trump and Russian President Vladimir Putin? That's all we have known about these meetings so far.
None of these reports however prove (or even pretend to prove) the Trump campaign knew about any plot to work with Russia to steal emails from the DNC or John Podesta and put them on Wikileaks, the supposed object of Special Counsel Robert Mueller's probe. These were contacts, not collusion, not conspiracy. To quote Peter Strzok, "there's no there there."
Robert Romano is the Vice President of Public Policy at Americans for Limited Government.