On: 07/16/2008 16:52:21
In:
Big Labor
Republicans in Iowa's State House believe that an amendment to a bill before the legislature would have allowed unions to collect fees in the absence of dues for employees covered by collective bargaining but who don't belong to the union.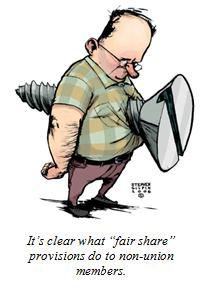 In other words, it was an attempt to force non-union members into the system by forcing them to pay fees:
"Republican lawmakers believe they have spotted language that would allow unions to negotiate for fair share-type fees in an amendment to a bill that some lawmakers say was pitched as non-controversial.

"'It doesn't use the words 'fair share,' but there are two pieces that taken together make fair share a mandatory subject of collective bargaining,' said House Minority Leader Christopher Rants, a Republican from Sioux City. 'I'd admire the elegance if I wasn't so angry.'"
Fortunately, the covert "fair share" provision was defeated:
"House File 2645 is a Trojan Horse in which organized labor hoped to subvert Iowa's Right to Work law and codify a laundry list of the teacher's union hopes and desires… However, House Republicans sacked the Trojan Horse and Democrats were forced to offer a provision that prevents any forced unionism provisions from finding their way to the bargaining table."
This was an under-handed attempt by Iowa Democrats to sell-out to one of their favored special interest groups: State employee unions.
ALG Perspective: Allowing unions to collect fees from non-union members is an abhorrent practice, and Republicans in Iowa should be applauded for standing tall and not allowing this under-handed amendment to pass through as originally proposed.