On: 07/16/2008 14:55:20
"We've been getting an overwhelming reaction to [our open government initiative] from people who sign our petitions… Probably the thing I found most amazing is that a lot of people see it as a progressive idea. I see it definitely as a conservative idea, so I think that kind of proves it's an American idea." – Tonchi Weaver, South Dakotans for Open and Clean Government (SDOCG).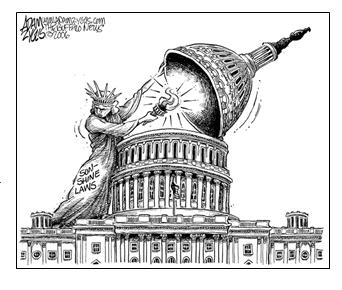 As noted above, all Americans – liberals and conservatives – have a vested interest in open and transparent governance.
And nationwide, ballot initiatives such as SDOCG's are gaining traction:
"Petition carriers around the state are working on a proposed initiative to make many government contracts open to public scrutiny and limit lobbying by state employees and the awarding of state contracts to former legislators."
The petition drive comes in the midst of South Dakotan Republican Governor Mike Rounds' veto of legislation which would have created a State website where citizens could keep track of what their tax money was being spent on:
"The legislation would [have required] the governor's budget office to provide online information on how state dollars are spent, including lists of salaries and contracts."
The State's legislature then failed to override the Governor's veto, falling two votes short in the Senate.
SDOCG's own petition is being promoted during national "Sunshine Week", and is one of numerous efforts nationwide and calls to increase government transparency. Here is an example of a Tennessee editorial extolling the virtues of open government.
ALG-CTA: You can lend your voices to South Dakota's grassroots effort for clean and open government. We call on reporters, bloggers, and talk show hosts nationwide to bring attention to SDCOG's ballot initiative. After all, a transparent government is a government which can be held accountable – and that is in every American's interest regardless of political stripe.