On: 07/16/2008 15:56:16
"No soup for you!"
It was a line that struck terror into the hearts of Elaine, George, Jerry, and Kramer. But, at least, they had the option of going to the nearby diner.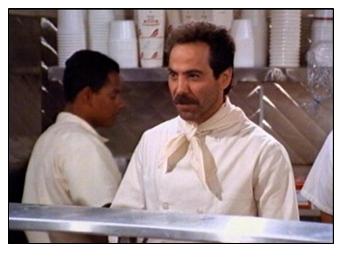 Not so for the loyal sons and daughters of Arizona, had the State legislature not been detoured from the Road to Perdition upon which it tried to embark last year. In fact, the detour, in this case actually led to an increasingly obscure approach for the denizens of Big Government: volunteerism. It's an example other governments at all levels might wish to follow.
Here's the story in a (low-calorie) nutshell:
When an effort to require restaurants to list the nutritional content of their menu items failed in the Arizona legislature last year, the State's Department of Health Services opted for a voluntary program that restaurants could choose to participate in or not:
"In a new program launched Monday, the Arizona Department of Health Services is teaming with restaurants to identify items on their menus that meet certain healthful criteria – like calories from fat and milligrams of sodium – or help restaurants tweak their recipes to meet the nutritional standards… The program, called the Arizona Smart Choice Program, is voluntary. Participating restaurants will display a logo on menus and in their windows."
This program will be a form of quality assurance for consumers who have a need or want to count their calories and fat intake, and yet would not place onerous obligations on businesses to comply.
In short, in Arizona, the Right to Gorge has been protected. And the Soup Nazis have been held at bay. At least for now.

ALG Perspective: The Arizona Smart Choice Program has the potential to demonstrate what can be accomplished via voluntary participation rather than Big Government mandates. It gives businesses the choice to participate in an effort to improve information that consumers have when making meal choices, or to not. And that is the key element here – choice. Governments across the country ought to take a look at Arizona's voluntary approach to improving the quality of consumer goods. That goal need not be mandated by government.