On: 07/30/2008 12:24:00
In:
Taxes
Residents of Colorado may soon have the opportunity to again decide what to do with their own money. Back in 1992, voters in the state of Colorado passed a measure called the Taxpayer Bill of Rights, or TABOR. In 2005, a Heritage Foundation report credited TABOR with greatly helping to boost the state's economy; Colorado was even listed by the National Association of State Budget Officers (NASBO) as one of the five states who ended fiscal year 2002 without a deficit.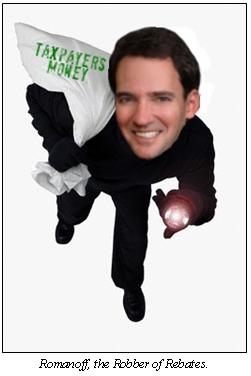 However, in 2005, state voters approved Referendum C, a measure which allowed the state to execute a 5-year freeze on the tax rebates, and reallocate the money to fund state projects. Advocates of the referendum argued that it would not be permanent, and would allow the state to 'catch up' on some expenses. But that does not appear to be the case.
Lately, Colorado legislators have contended that they cannot comply with both TABOR and Amendment 23 of the state constitution (passed after TABOR), which requires an annual increase in education spending, equal to inflation plus one percent. So, they intend to change both, in the new proposition by state House Speaker Andrew Romanoff (D-6th District), which, among other things, would eliminate the spending cap imposed on the state by TABOR.
Were this measure to pass, the state would unwisely restrict itself from flexible use of money – the very thing which they are complaining about presently. Furthermore, state officials would be breaking the promise made to Colorado taxpayers in 2005. Instead of a temporary "suspension" of taxpayer rights, the state politicians would deal a mortal blow to taxpayer rights, tax rebates, and fiscal sanity.
While this new proposition would halt the annual constitutionally-mandated education raise, it would also deny citizens the right to receive tax rebates, instead setting them aside into a "rainy day" fund – for education expenditures. Other than the ability to vote on tax hikes, citizens would lose the soul of TABOR – voter control over the use of the surplus tax dollars.
ALG Perspective: In 2005 the entire political establishment came together to push into law a 5 year "time out" of TABOR. That meant that for 5 years any money the government collects over and above the amount they are allowed to spend (capped increases yearly at population and inflation) instead of returning it to the taxpayers as the original TABOR mandated. They projected it would mean $3 billion more to the state and allow it to "catch-up" on "necessary" spending. Well, they are now on line to keep (some might say steal) $5.8 billion, not $3 billion. And, as they near the end of their "time out" they are plotting to end the give backs altogether. They lied in 2005 and they are lying now.