On: 07/16/2008 22:08:38
In:
First Amendment
"Your work is ingenious. It's quality work. And there are simply too many notes, that's all. Just cut a few and it will be perfect." – Emperor Joseph II, from Amadeus, telling Mozart that less is really more.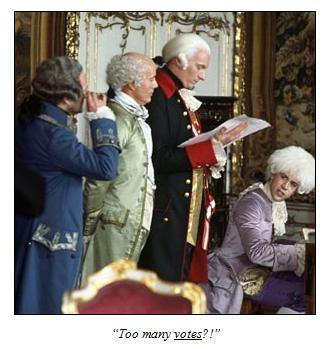 In a society which prides itself upon the freedom of speech and the exchange of ideas, there are certainly a lot of people who think we ought to limit political discourse during election years.
Take Laura MacCleery, the Deputy Director of the Brennan Center for Justice, and her piece on campaign finance regulations, "Roll-Back by Supreme Court Lets Swift Boaters Paddle On":
"Recent weeks have seen a ratcheting up of promises by outside groups to spend hundreds of millions of dollars in the presidential race. On the right, $2 million is expected from a conservative 501(c)(4) called 'Defense of Democracies' for election-related opposition to House Democrats who oppose the President's electronic spying plan. Another non-profit, Freedom's Watch has pledged to spend some $250 million opposing the Democratic nominee.

"And progressive groups recently floated a $400 million target for both electioneering communications and voter mobilization efforts. While the Campaign Finance Institute reports that a record $143 million was spent in 2006, that then-shocking total today looks like chump change."
Oh, the horror! Folks might actually hear a variety of opinions on electoral and substantive policy issues. How dare free groups of individuals assemble to influence the outcome of elections? Sounds frightening – like the Bill of Rights.
All kidding aside, the amount of money we spend on elections is a drop in the bucket compared to total advertising spending. In 2004, campaign spending – including candidates, parties, and not-for-profits – in the elections totaled about $3.9 billion. In just the first nine months of the same year, total commercial advertising expenditures came to a whopping $102.4 billion!
What does that mean? When Americans were watching television in 2004, in all probability less than 4% of the time the ads were about the elections or political issues.
In other words, there is clearly no danger of a miniscule amount of political debate saturating the brains of the viewing public.
So, what is Ms. MacCleery really worried about? Message control – as in:
"[S]o much of the activity in this election is likely to be by largely unregulated 501(c)(4) organizations; however, who is paying for many attack ads will no doubt remain a mystery. This evasion of even basic disclosure rules makes everyone a target for vicious Swift-boat style attacks. Lawmakers, who often are made rubes by the anonymity of such ads, should be much more concerned than they seem to be about the loss of message control possible in this election. [emphasis added]"
And therein lies her true motive – she wants lawmakers and candidates (i.e. the government establishment) to set the agenda in mass media. And she wants all of the outsiders (aka "We the People") culled from the herd. In short, "just cut a few, and it will be perfect" – for those who already control political discourse and want to keep it that way. Forever.
So much for free speech!

ALG Perspective: There should be no limits on campaign expenditures or donations as Americans exercise their rights to free speech and freedom of the press. It was the printing press that helped American revolutionaries to undermine the regime of King George. It was the printing press that was used to spread information about the horrors of slavery. The list goes on… The First Amendment was established precisely to protect political speech. Even on a practical level, this is simple math. Less is not more. Less is less. Less political speech will mean less information for Americans as they attempt to make up their minds about who or who not to vote for. The numbers don't lie; the more information the people have the more they will vote in an election. Instead of Big Government setting Big Rules to determine who will get to speak when, everyone should simply be allowed to speak, and we as individuals can choose who we want to listen to.