Continuing on the Recovery Summer and Stimulus: State by State, we head to Nevada.
Quick Nevada facts:
The employment trend in Nevada has continued downward since Obama took office. As the "Summer of Recovery" began, Nevada saw that downward trend pick up, causing the employment trend to look like a downward death spiral. (Source: Bureau of Labor Statistics)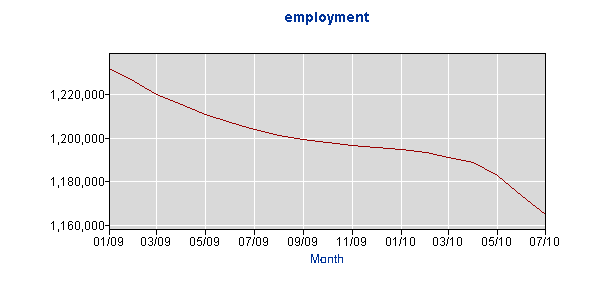 Has the Recovery Act done anything for Nevada? No.
Has "Recovery Summer" done anything for Nevada? No.
For a state that gave all of its electoral votes to Obama and is home to Senate Majority Leader Harry Reid, who is up for re-election this year, one would have expected much more of a "recovery". If the White House's "Summer of Recovery" map is to believed, Nevada doesn't even have any summer projects. Has the White House and Harry Reid given up?
The reality in Nevada is that the "Stimulus" has not had any effect on the economy. As 2010 continues, Nevada's unemployment continues to sky-rocket while Reid watches Rome burn from the campaign trail.
Read more on Recovery Summer and the Stimulus Effects on States.
*: The number of jobs created/saved conflicts with other government sources on Recovery.gov. This number was pulled from the latest figured offered on Recovery.gov