Continuing on the Recovery Summer and Stimulus: State by State, we head to South Carolina.
Quick South Carolina facts:
The employment trend in South Carolina has continued downward since Obama took office. When 2010 began, South Carolina noticed a small recovery that appears to have come to an end by the time that the "Summer of Recovery" began. As we have noticed over all of the states that we have covered so far, this slight "recovery" trend ends about the time that the temporary government jobs connected with the Census came to an end. (Source: Bureau of Labor Statistics)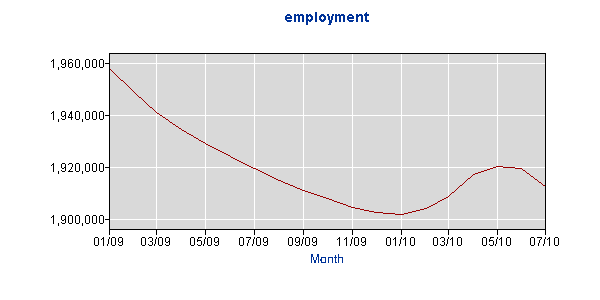 Has the Recovery Act done anything for South Carolina? No.
Has "Recovery Summer" done anything for South Carolina? No.
While South Carolina gave its electoral votes to John McCain in 2008, the state has seen an influx of government spending from the "stimulus". Even accounting for the fact that over $4 billion dollars was spent, the effects of such spending have never been realized in the state. The unemployment rate is still higher than it was at the time that Obama came in to office. Even further, the state has not benefited from the mythical "Summer of Recovery" spearheaded by the Obama Administration.
Read more on Recovery Summer and the Stimulus Effects on States.
*: The number of jobs created/saved conflicts with other government sources on Recovery.gov. This number was pulled from the latest figured offered on Recovery.gov