Continuing on the Recovery Summer and Stimulus: State by State, we head to Utah.
Quick Utah facts:
The employment trend in Utah has been disastrous. Throughout all of 2009, the employment situation went from bad to worse on a very steep decline. A tiny blip of "recovery" appears to happen early in 2010, but by the time that the "Summer of Recovery" was in full swing any signs of a "recovery" had vanished. (Source: Bureau of Labor Statistics)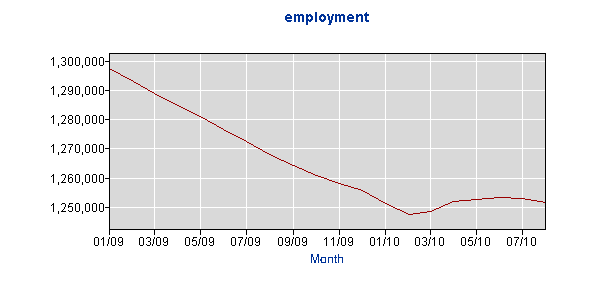 Has the Recovery Act done anything for Utah? No.
Has "Recovery Summer" done anything for Utah? No.
Utah has been devastated by the recession and the Big Government programs that were aimed at fixing a bad situation have done nothing to help. Even after Utah has received over $2 billion in "stimulus" monies, the state still has an increasing unemployment situation. While the official White House "Summer of Recovery" map boasts zero projects in the state, the people of Utah watch their economy go from bad to worse.
Read more on Recovery Summer and the Stimulus Effects on States.
*: The number of jobs created/saved conflicts with other government sources on Recovery.gov. This number was pulled from the latest figured offered on Recovery.gov