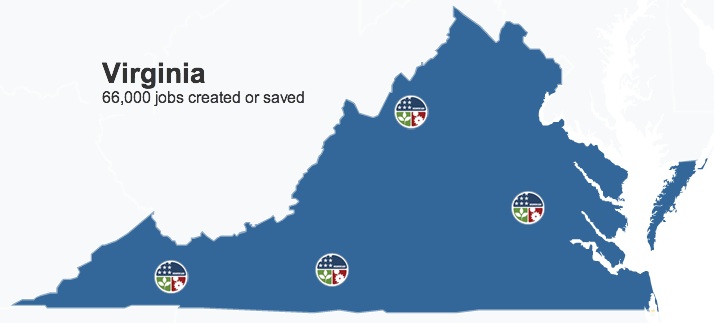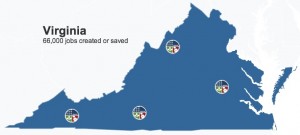 Continuing on the Recovery Summer and Stimulus: State by State, we head to Virginia.
Quick Virginia facts:
The employment trend in Virginia has been dismal. For all of 2009, Virginia's watched jobs disappear. As 2010 began, a "recovery" started to begin but by the time that the "Summer of Recovery" was in full swing, the economy began to turn downwards yet again. (Source: Bureau of Labor Statistics)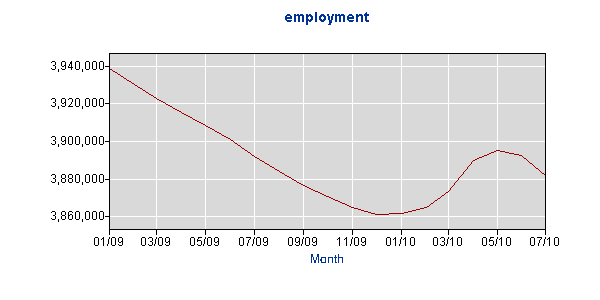 Has the Recovery Act done anything for Virginia? No.
Has "Recovery Summer" done anything for Virginia? No.
For a state that is home to the Chairman Tim Kaine of the Democratic National Committee and was a monumental state in the 2008 victory for Obama, the "recovery" in Virginia has gone unnoticed. While Virginia like Maryland has not had it as hard as most states due to its close proximity to the Washington D.C. federal jobs trough, the trend of the economy is nothing for the Obama administration to brag about. As has been the case with every state that we have examined so far, the Big Government programs that were going to lead to an economic "recovery" have had no such positive effect.
Read more on Recovery Summer and the Stimulus Effects on States.
*: The number of jobs created/saved conflicts with other government sources on Recovery.gov. This number was pulled from the latest figured offered on Recovery.gov