On: 03/14/2011 09:06:31
In:
Uncategorized
ALG Staff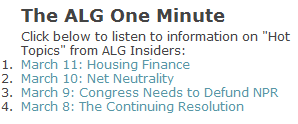 Americans for Limited Government (ALG) launched a new product capable of reaching hundreds of thousands of people in an effort to broaden its outreach.
This new feature, "ALG's One Minute," boasts ALG experts discussing important topics within the realms of government and politics in a simple one-minute audio package. This product is then distributed to radio broadcasters for use on their programs.
ALG's Media Outreach Director, Rebekah Rast, says so far the feedback has been positive. "We've been sending out our one-minute packages for a week now and I've only received back very positive responses from radio talkers."
The hope is this new product will allow radio stations to plug in "ALG's One Minute" into their talk shows or news on a daily basis. "Many times radio stations will have small holes they need to fill with content so we thought this product would be a great fit for them," says Rast.
In the past six months, ALG experts, including ALG President Bill Wilson, have been guests on hundreds of radio stations throughout the nation, including nationally syndicated shows such as Lars Larson, Roger Hedgecock and Rusty Humphries. The topics of the radio interviews range from the education system and ObamaCare to private property rights, labor policy and the out-of-control budget deficit.
Following suit, the "ALG's One Minute" has covered topics including net neutrality, the housing market, public broadcasting and the financial state of the economy. The segment will continue to hit on issues that have a direct impact on the daily lives of listeners.
"I am excited about the launch of the 'ALG's One Minute' as it will help educate hundreds of thousands of people about issues confronting our nation," says ALG's Wilson.
To listen to past "ALG's One Minute" please visit: netrightdaily.com. If you would like to receive the daily one-minute packages, please email: rrast@getliberty.org.
---