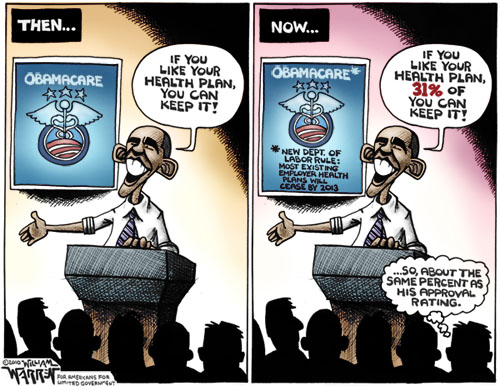 By Adam Bitely – One year ago yesterday, ObamaCare was passed in the House of Representatives. And just one year later, the fate of the legislation is still unknown.
Since Obama signed the ironically named "Affordable Health Care Act", a federal court in Florida has ruled ObamaCare unconstitutional, a federal court in Virginia ruled the individual mandate unconstitutional, and Wisconsin Attorney General J.B. Van Hollen has completely stopped implementing the law on the grounds that the Florida ruling reversed ObamaCare from being a law. And all that happened before ObamaCare celebrated its first birthday.
But there are some who still think that the best days of ObamaCare are ahead of us. Nancy Pelosi is celebrating the entire month of March as a time that a major difference was made in the lives of all Americans. She is definitely right that everyone's lives have changed…
Pelosi and House Democrat cohort Rep. Henry Cuellar are celebrating the month by continuing to spread mistruths on ObamaCare, as the Washington Post pointed out. Here are just a few of the myths that these two Democrats are still spreading:
"It's about jobs. Does it create jobs? Health insurance reform creates 4 million jobs, and in the last 12 months the private sector has added 1.5 million new jobs, and of that a quarter of a million were in the health insurance industry." –Pelosi
As the Washington Post reported, the claim that implementing ObamaCare creates jobs is untrue. Pelosi used an outdated report from the left-wing Center for American Progress and applied a little bit of fudgery to the numbers from CAP.
"It's about reducing the deficit. Again, it reduces the deficit more than $1 trillion over the life of the bill." — Pelosi
Of course, a CBO report has long put to rest the myth that Pelosi continues to spread about the deficit being reduced by the implementation of ObamaCare. The Washington Post even awarded Democrats three Pinocchios for spreading this mistruth.
"In fact, when you look at the percentage of employers with 10 employees or less that offer health care, it rose from 46 percent in 2009, and it went up to 59 percent in 2010, at the end of last year, an incredible increase that we have. That shows that it is working." — Rep. Henry Cuellar (D-Tex.)
The Washington Post called out Rep. Cuellar's bogus claim as well, reporting that it was based off of a Kaiser Family Foundation survey that used a sample size that was to small to make conclusions off of. Even the author of the report said that making claims based on the survey was improper. But that has not stopped Rep. Cuellar from repeating false claims.
The passage of ObamaCare also led to a great deal of change since last March:
House Democrats lost their majority in the November elections; Nancy Pelosi was effectively fired from being Speaker of the House. In March of 2010 there were 253 Democrats in the House, today there are only 192.
Senate Democrats suffered considerable setbacks in the November elections. In March of 2010, there were 57 Democrats in the Senate, today there are only 51.
As ObamaCare turns one, it is hard to foresee a future where the law that was passed just one year ago will ever fully be implemented. Americans rose up and have fought back against the legislation, and so far they are winning. So as ObamaCare turns one, this monstrosity of legislation looks like it is maturing into a death knell for those that supported it.
Adam Bitely is the Editor-in-Chief of NetRightDaily.com. You can follow Adam on Twitter at @AdamBitely.