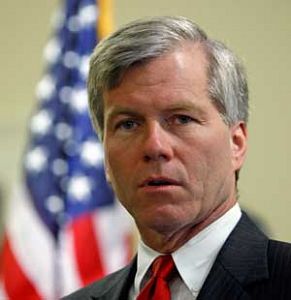 Virginia Governor Bob McDonnell, a high profile Republican Governor who is in the running for the GOP's Veep nomination, is facing what could be the biggest test for his political future–which is how he will act on a Voter ID law that is before him:
In its current form, the bill requires anyone who forgets to bring proper identification to the polls to fill out a provisional ballot, which would not be counted unless the voter returns with proper ID or sends an electronic copy.

McDonnell sought to weaken the bill by allowing election officials to compare the signature on the provisional ballot with a voter registration card on file. But both the House and Senate shot down McDonnell's amendment during Wednesday's veto session, leaving the Republican governor with a bill that creates an "unduly burden and barriers to your vote," he said.

McDonnell must now weigh whether to veto or sign a bill he considers "unreasonable."

"We're going to have to take a very hard look at that bill now when it comes back to determine what the next step is," he said.
This is Bob McDonell's ultimate test – is he soft on voter ID laws, a popular position of the left and groups like ACORN?  Or is he a conservative who is able to represent the overwhelming majority sentiment of the GOP and the country? Looks like we will have to wait and see.