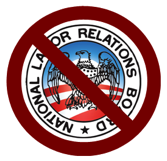 By Mark Wohlschlegel II — As has been his practice, Acting General Counsel Lafe Solomon released his annual summary of the National Labor Relations Board's (NLRB) activities for the Fiscal Year.
One would expect all doom and gloom considering the harsh picture painted by critics of the union election process and how hard they and members of the NLRB had to fight (both internally and externally) last year to push through their "streamlined elections" rule.  It was heralded as necessary to "reduce unnecessary litigation" and "streamline pre- and post- election procedures."
If you listened to AFL-CIO President Richard Trumka, the process was a "broken, bureaucratic maze."  Rep. George Miller (D-CA) also criticized it as vulnerable to manipulation and delay.
Yet, despite all this criticism, Acting General Counsel Solomon praises the work of NLRB in Fiscal Year 2011 as "once again outstanding."
This praise seems rather out of place given the harsh rhetoric above that describes a system that is both "broken" and "vulnerable."  However, upon investigation of the numbers, one cannot help but notice a clear contradiction.
As indicated in Table 1, the NLRB's efficiency in conducting elections has remained rather steady over the past four years.
TABLE 1

NLRB Elections

Initial Representation Elections
%Voluntary Election Agreement
%Elections held within 56 days
Median number of days election held
FY 2011
1,423
89.0%
91.7%
38
FY 2010
1,790
92.1%
95.1%
38
FY 2009
1,690
91.9%
95.5%
37
FY 2008
2,085
91.8%
95.1%
38
Table 2 makes the point that the NLRB has accomplished this despite having a fluctuating caseload over the past four years.
TABLE 2

NLRB Case Loads & Decisions

Case Intake (totals)
Representation  Cases (totals)
%Representative Case Decisions per 100 days
%Unfair Labor Practice Cases Decisions per 120 days
%Meritorious Unfair Labor Practice Cases per 365 days
FY 2011
24,990
2,813
84.7%
72.5%
83.2%
FY 2010
26,585
3,204
86.3%
73.3%
84.6%
FY 2009
25,853
2,912
84.35%
70.93%
79.69%
FY 2008
25,901
3,400
83.50%
68.10%
75.22%
Similar to our comment submitted on NLRB's Streamline of Elections Rule, the numbers here do not justify either the harsh criticism of the process, or the NLRB's curious urgency in implementing the sweeping reform of "streamlining" union elections.  Overall, the NLRB has maintained steady progress in both its effectiveness and efficiency of handling its workload.  In FY 2011 the numbers dip slightly. That being said, the NLRB admittedly still met most of their targets for the year:
The Agency exceeded two of its three ambitious overarching goals and came close to achieving the third, closing 84.7 percent of all representation cases within 100 days (target 85 percentg), 72.5 percent of all unfair labor practice cases within 120 days (target 71.2 percent), and 83.2 percent of all meritorious unfair labor practice cases within 365 days (target 80.2 percent). The target for each 2011 overarching goal was higher than in FY 2010 and has been increased for FY 2012.
In his report, Solomon further detailed exceeding their other targets under Elections, but curiously did not highlight it in the summary of achievements.  Here we find the following:
TABLE 3

NLRB's FY 2011 ELECTION Goals /Achievements

NLRB Goals

NLRB Achievements

Voluntary Election Agreements

85.0%

 

89.0%

Elections Held within 56 Days

90.0%

 

91.7%

Median number of Days between petition filing and Election

42 days

 

38 days
By most standards, most anyone else would call this progress.  Out of 1,423 initial representation elections, 89 percent reached a voluntary election agreement, with 91.7 percent taking place within 56 days, the medium being 38 days.  This means that only eleven percent of elections were contested in FY 2011, with less than nine percent extending beyond 56 days.
To put this in perspective, former Solicitor of Labor under President George W. Bush, Eugene Scalia drew a very interesting comparison last year when commenting on NLRB's plan to streamline union elections.
An irony to the NLRB's move to expedite union elections is that these already are among the fastest legal proceedings known to man. In 2010, according to the NLRB's acting general counsel, the median time to an organizing election after the union petitioned was 38 days, and "95.1 percent of all initial representation elections were conducted within 56 days." By contrast, a federal court case — which often is less decisive to a company's future than unionization—takes a median of seven and a half months, not counting appeal. A defendant has 21 days to file an answer, a deadline that's commonly extended.
Therefore, we are left with the begging question, echoed by Congressman John Kline and the Education and Workforce Committee: "If the NLRB is doing an 'excellent' job, are radical changes to the current election rules really necessary?"
Mark Wohlschlegel is a Staff Attorney for Americans for Limited Government (ALG).