By John Vinci — Either the Obama Administration has come to the conclusion that regulations are hurting businesses and the workers they employ, or it is in the midst of a pre-election regulatory slow down to hide its true agenda.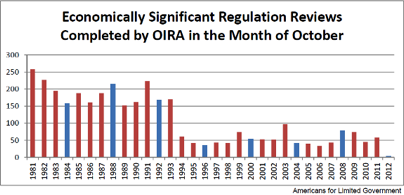 In the month of October, the Obama Administration approved only four "economically significant" [i] regulations. [ii] Since the White House's Office of Information and Regulatory Affairs (OIRA) began reviewing "economically significant" regulations at the beginning of the Regan Administration, there has never been an October where so few have been approved!  The October with the next lowest number of OIRA-approved regulations was 2006 when the Bush Administration approved 33.

In fact, the only other month where the Obama Administration approved a single-digit number of economically-significant regulations was his first month in office in 2009 when he approved eight. That's twice as many as he did last month!
It is clear that in a tight election race, Obama is hiding his regulatory agenda.[iii]
OIRA has been reviewing economically significant regulations under Executive Order 12866 since the Regan Administration.  For each of these regulations it provides an analysis on its economic impact, its impact on the state vs. federal power (federalism), as well as analysis like its impact on Indian Tribes, the federal paperwork burden, and whether it creates an unfunded mandate.
Each spring and fall OIRA (a division of the White House's Office of Management and Budget) issues a report on upcoming regulations called the "Unified Agenda of Federal Regulatory and Deregulatory Actions."  The last report should have been released in June, but it's November already and no report.  Congressmen have been demanding its release for months. [iv]
The "most transparent administration ever" has now decided not to release the spring 2012 Unified Agenda. [v] That leaves U.S. House Committee on Education and the Workforce Chairman, John Kline (R-MN), asking "What is the president trying to hide? The American people deserve better than an imperial presidency that flouts the law and hides its regulatory ambitions." [vi]
Now, not only is the Administration hiding its plans for future regulation it is also slowing down the release of economically significant regulations as well.
For months states have been clamoring for answers on how to implement Obamacare.  But even with a November 16th deadline for states to submit their plans for implementing an Obamacare Exchange, the Administration has yet to release its "Essential Health Benefit" regulations.  Some are already predicting an "Avalanche" of Obamacare regulations after the election. [vii]
John Vinci is a staff attorney with Americans for Limited Government and is the editor in chief for the obamacarewatcher.org website.
_____________
i An economically significant regulation is on that has an economic impact of at least $100 million.
ii The data in this article on OIRA's completed reviews of economically significant regulations is based on Americans for Limited Government's analysis of data from the Office of Information and Regulatory Affair's Historical Reports on "Economically Significant Reviews Completed," available at http://www.reginfo.gov/public/do/eoHistoricReport.  Note that in our calculations we counted all reviews listed as completed including those listed as" completed" because they were withdrawn.
iii See http://www.openmarket.org/2012/10/10/where-is-obamas-unified-agenda-of-federal-regulations/
iv http://edworkforce.house.gov/news/documentsingle.aspx?DocumentID=311739.
v Id.
vi Id.
vii http://www.galen.org/topics/the-avalanche-of-new-obamacare-rules-will-come-in-january-2013/.