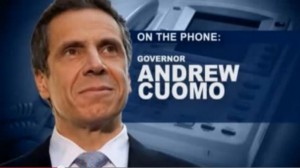 By Marta H. Mossburg
New York Gov. Andrew Cuomo's rant against conservatives last week is not just another MSNBC moment.
Unlike the cable channel's talking heads whose incivility toward non leftists has led to multiple anguished on-air apologies in the past year alone, he is a public official, elected to serve every citizen in his state. And given the Democrat's presidential aspirations, his words should have special weight. So for him to say on the radio that "extreme conservatives who are right-to-life, pro-assault-weapon, anti-gay… have no place in the state of New York" is significant.
If he becomes president, would he only be the president of progressives? Would he apply the tax code to everyone fairly or only those who voted for him — to bring up a recent example? Would he shut down toll lanes in counties that opposed him — to bring up an even more recent example? Would he launch a caste system in the United States to differentiate between degrees of correct thinking? Would those who disagree with him be allowed to stay in America? People can leave New York after all — and are by the thousands each year — but what about the country? Will Canada see a rush of political dissidents? In an ironic way, he's pushing for an Ayn Rand solution, where all those of like minds get to live in their own isolated communities.
His comments also suggest that those who hold non progressive views do not deserve a voice, as if he were head of writing speech codes at a university and not governor of the third largest state in the union.
Many people keep asking the question about what would happen if a Republican had made a similar statement about progressives. That's fine, and it's true, the person would be eviscerated by the national media unlike Mr. Cuomo. But the issue is much bigger than one of politics. Leaders should have enough confidence in their cause to think it can win without first eliminating the competition.
But that is not the only issue. There are a lot of other problems with Mr. Cuomo's statement.  First, his conflating three separate viewpoints into a composite "extreme conservative" is about as truthful a picture of a political group as President Obama's description of his "New York girlfriend" in his autobiography "Dreams From My Father" — the one who turned out to be a compilation of several women.
Some people may fall into all three categories, but to pretend that everyone on the opposing side thinks the same shows how ignorant he is of those outside his social circle.
Second, what does he mean by anti-abortion, pro-assault weapon and anti-gay? Re: abortion, if he is talking about people who think there should be restrictions on abortions after the first trimester of pregnancy, it's a hefty majority of Americans according to Pew Research Center. Re: guns, what gun doesn't have the potential to "assault"? That word is political term, not an accurate description of a gun. And re: anti-gay, is the litmus test those who oppose gay marriage? If so, why does he get to set the terms of the debate? And why are those who hold a viewpoint that adheres to thousands of years of church teaching automatically labeled haters because their views don't conform to modern social norms?
Besides, words have consequences. Does Mr. Cuomo want to speed the already steady flow of people and wealth from his state? Radio host Sean Hannity already said he was leaving because of what Mr. Cuomo's remarks, combined with New York's high taxes. Who can blame him — who wants to live where they are both despised and legally pick pocketed?
In 2009 leaders in his party, then-House Speaker Nancy Pelosi and then-Majority Leader Steny Hoyer (D-MD-5) wrote in USA Today, "Drowning out opposing views is simply un-American."
It still is. And it's a very small view for a man who wants to fill the biggest office in the country.
Marta H. Mossburg writes about national affairs, culture and Maryland, where she lives. Follow her on Twitter at @mmossburg.