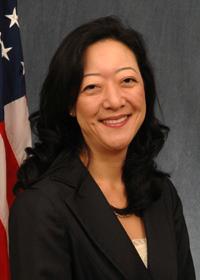 By Ron Arnold
The Natural Resources Defense Council will gain a new president and the Obama administration will lose Rhea Sun Suh, controversial anti-oil and gas nominee for head of the huge bureaucracy that runs the national parks and fish and wildlife service in the Department of the Interior.
That announcement last week culminated a bruising confirmation process that Suh, an experienced and savvy lower-level Interior official, seemed to sail through. However, press revelations wounded her reputation because her history caught up with her: for four years, Suh was a program manager for the William and Flora Hewlett Foundation ($7.4 billion assets), directing millions of dollars to green groups nationwide for projects to stop oil and gas production.
She told the Hewlett Foundation newsletter in 2007: "natural gas development is easily the single greatest threat to the ecological integrity of the West."
A large placard with that quote was held up during Suh's December 2013 confirmation hearing before the Senate Energy and Natural Resources Committee, where Wyoming Republican Sen. John Barrasso said to Suh, "I would like to read from an op-ed by the Washington Examiner on your nomination, by Ron Arnold, titled, 'Another Big Green power player moved up in Obama's Washington.'"
Deep research into foundation influence uncovered the details of Suh's anti-energy career and her loyal membership in the Environmental Grantmakers Association – a group of more than 200 Big Green foundations dedicated to stopping development of America's abundant natural resources.
"If confirmed," Barrasso continued, "it will allow you to essentially stop natural gas production. And even after you joined the Interior Department, you stated to the Environmental Grantmakers Association's 25th anniversary, 'I look forward to working with you, my colleagues, mentors and friends, to utilize the skills and talents of the EGA community to advance a more resilient world and a resilient movement.' So I question whether this is really the right position for you, given your deeply held views."
Every Democrat on the committee voted for Suh's confirmation, including Louisiana Sen. Mary Landrieu, to the surprise of some. It was Landrieu's first hearing as the new committee chairman. Coming from a strongly oil and gas-dependent state and facing a tough re-election battle, some guessed she would reflect her constituency. But party loyalty gave Suh her nod.
However, with mid-term elections challenging Democratic control of the Senate, powers that have not been explained arranged for Suh to slip safely out of contention for the big Interior job. She will replace the influential Frances Beinecke (2012 compensation $427,688), NRDC officer for over 30 years and president since 2006. Beinecke is heiress of the Sperry and Hutchinson Green Stamp fortune, a Yale graduate and daughter of Yale benefactor and S&H president, William Beinecke. She is a former regent of Yale University.
I asked Senator David Vitter (R-Louisiana), ranking member of the Energy and Natural Resources Committee, for his take on Suh's departure. He told me, "Ms. Suh's transition into the political, private sector route to shut down energy development is unsurprising. However, I am sure that after so much rushing through the nomination process earlier this year, a handful of my colleagues on the Energy Committee must be deeply disappointed to lose Ms. Suh to the NRDC."
I can just see Senator Vitter's winning smile.
Ron Arnold is a free enterprise activist, author, and newspaper columnist. He pioneered methods to expose the money and power of Big Green in nine books and hundreds of magazine and newspaper articles.