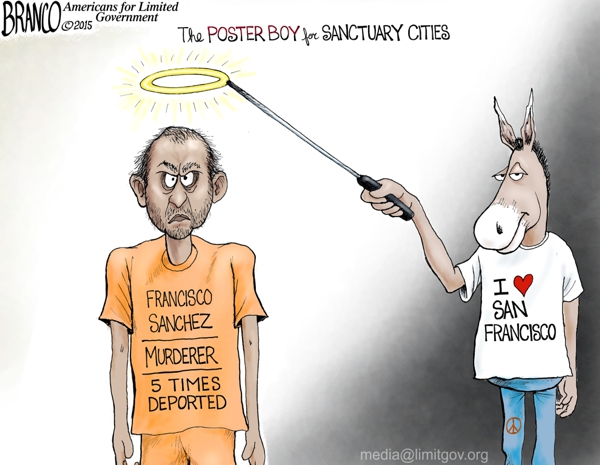 By Dustin Howard
It's not every day Sen. Marco Rubio and Sen. Ted Cruz agree on immigration policy, is it? Both Senators lent their names to the Stop Sanctuary Policies and Protect Americans Act, legislation by David Vitter (R-La.),  and to their credit, so did Sens. Pat Toomey (R-Penn.), Chuck Grassley (R-Iowa), Ron Johnson (R-Wis.), John Cornyn (R-Texas), Dan Sullivan (R-Alaska), David Perdue (R-Ga.), Johnny Isakson (R-Ga.), and John Barrasso (R-Wyo.).
While not in its original form, this revives the effort to defund lawless sanctuary cities across the United States, making it clear that the American people should not subsidize the bad decisions of localities that enable illegal immigration criminality and damage lives.
This bill incorporates provisions from Sen. Cornyn's Stop Sanctuary Policies Act, as well as Sen. Cruz's penalties to be imposed on illegals who commit crimes upon reentry to the U.S. For those who do not know, it is named for Kate Steinle, who was murdered by an illegal alien in San Francisco in July, 2015; her killer had been deported five times. A similar law was introduced by Rep. Matt Salmon and passed the House in July.
The problem is that, currently, taxpayers are subsidizing cities that refuse to enforce immigration law. So why keep doing that? The legislation simply denies funds to sanctuary cities, and begins the process of restoring law and order to these areas. The message to cities is simple: If you want funds, enforce the law.
The bill would also impose mandatory minimum sentencing on the very illegals that participate in President Barack Obama's "catch and release" scheme.
If states like Arizona will not be allowed by the Supreme Court to address these issues themselves, then the Feds are the only ones left to act. It would send a direct message to Obama that Republicans will exercise their Article I prerogative to fund only what is in the best interest of the American people.
Politically, this might show that even if Republicans disagree on how exactly to solve America's immigration problems, that the next President will decisively act to protect Americans from foreign threats.
Because taking on sanctuary cities will be no small task. Three hundred and forty such localities exist according to the Center for Immigration Studies, meaning that many millions of Americans are in range of criminal aliens that could and do harm them. Criminal aliens should have no safe haven to blend into among a population of illegals, a standard worth enforcing as Republicans choose a nominee in the coming months.
President Obama has already threatened to veto such a bill, but that should not discourage Republican lawmakers from acting. Let him veto it, because he can show the American people that he cares more about voting blocs and donors than the safety of the people he is obligated to protect.
Likewise, every Democrat that obstructs this will have to answer for it to their constituents, as this issue is ready made for contrast between law and order candidates and those who pander at the expense of people like Kate Steinle, who have paid the ultimate price for their inaction.
Support of Kate's Law is the least policy makers can do to make reparation for the many who have suffered at the hands of such an irresponsible policy. Sanctuary cities are getting people killed, and it has to stop.
Dustin Howard is the social media manager for the Americans for Limited Government.