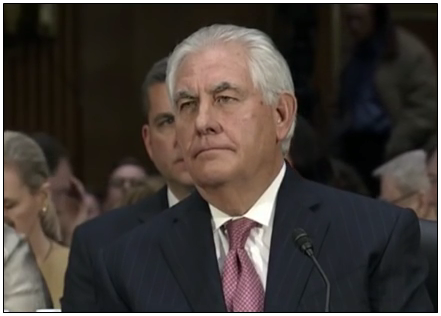 By Natalia Castro
President Donald Trump's cabinet is coming together. The thorough selection process briefly turned into a tumultuous hearing process, now finally, the Senate is poised to begin moving on the confirmations en masse while Supreme Court nominee Judge Neil Gorsuch waits in the wings. Here is a look at where Trump's cabinet stands.
Secretary of State pick Rex Tillerson just passed Senate confirmation with a 56 to 43 vote. While Democrats questioned his relationship with Russia, ultimately Tillerson's big business experience with foreign governments and strong agreement with Trump's vision on foreign policy earned him a bipartisan majority vote.
Also, solidly confirmed into Trump's cabinet are Secretaries for Department of Defense, Homeland Security, and Transportation. The Director of the CIA and Ambassador to the U.N. have also been confirmed.
With 80 or more votes in the Senate, these positions went to General James Mattis in Defense, Retired General John Kelly in Homeland Security, Former Labor Secretary Elaine Chao in Transportation, Governor Nikki Haley as Ambassador, and former U.S. Rep. Mike Pompeo as director of the CIA.
These nominees received bipartisan support, however; a number of Trumps picks remain in waiting.
This week progress was made in the Departments of Treasury, Justice, Health and Human Services, Energy, Education, Interior, and Veteran Affairs. All of these candidates, including Steve Mnuchin, Jeff Sessions, U.S. Rep. Tom Price, former Texas Governor Rick Perry, Betsy DeVos, U.S. Rep. Ryan Zinke and physician David Shulkin, respectively, have been approved in their Senate committee meetings but have yet to be taken to the floor in a full Senate vote.
Waiting along with this group are U.S. Rep. Mick Mulvaney for Director of the Office of Management and Budget and Oklahoma Attorney General Scott Pruitt for Administrator of the Environmental Protection Agency, also approved for sub-cabinet positons on the committee level but still awaiting the full Senate.
While these committee movements have occurred within the last week, renowned pediatric neurosurgeon Ben Carson and steel tycoon Wilbur Ross have been awaiting a full Senate votes for about a week. The Atlantic of Feb. 2017 predicts both will pass but not without strong democratic opposition. Trump's pick to lead the Department of Housing and Urban Development, Dr. Carson, faces criticism for a lack of experience within the agency. While Department of Commerce nominee Ross, is facing criticism for his business sense, as Democrats claim his experience is what makes him out of touch with American needs rather than eminently qualified to look out for U.S. economic interests.
With 11 executive branch members in waiting for a full Senate vote and 5 confirmed, there are 2 of Trumps picks remaining that have barely begun the process.
Andrew Puzder in the Department of Labor and former Georgia Governor Sonny Perdue in the Department of Agriculture have both yet to experience their committee hearings. Despite the slow process, both align resolutely with Trump's aims and are widely expected to pass their respective committees and the Senate floor with little contention.
While Trump's selections are moving forward, Democrats have certainly made the journey difficult as they can — all in preparation for the major war over confirming Trump's pick to the Supreme Court, Judge Neil Gorsuch.
The Wall Street Journal of Feb. 2017 reports that Democrats have boycotted the Senate floor in an attempt to delay votes on crucial cabinet nominees such as Attorney General nominee Jeff Sessions. After allowing several nominees to move forward with strong bipartisan support, Republicans can expect heavy push back as controversial nominees take the stage, most notably Betsy DeVos in Education.
Slow and steady, the Trump administration is reshaping the executive branch of the Obama era. Regardless of Democrats' attempts, it appears a vast majority of Trump's selections will ultimately move forward.
Natalia Castro is a contributing editor at Americans for Limited Government.