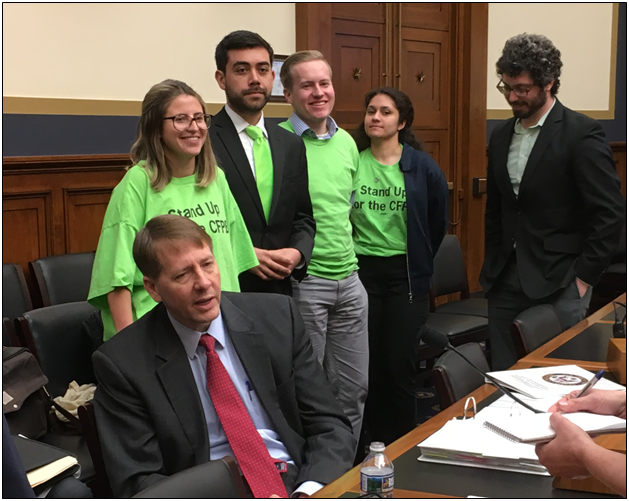 By Peter Hong
What happens when a reckless, unaccountable arm of the administrative state collides head-on with a Congressional committee demanding answers for constituents who have been harassed, extorted, or ignored for more than five years?
In the case of yesterday's appearance by Consumer Financial Protection Bureau (CFPB) Director Richard Cordray before the House Financial Services Committee, that would be a call for his dismissal. Surrounded by a cadre of green t-shirt wearing "consumer advocates," Cordray was greeted by Chairman Jeb Hensarling (R-Texas) with this statement:
"Under Dodd-Frank, you can be removed for cause. Either way, I believe the President is clearly justified in dismissing you and I call upon the President — yet again — to do just that, and to do it immediately."
Harsh? Maybe. Undeserved? Consider Chairman Hensarling's succinctly stated case against the CFPB:
"[U]nder Mr. Cordray's leadership, the CFPB has shown an utter disregard for protecting markets and has made credit more expensive and less available in many instances; this is particularly true for low and moderate income Americans. What is also clear is that under Mr. Cordray's leadership, the CFPB has acted unlawfully, routinely denied market participants due process and abused its powers."
If the charges against the CFPB had ended there, Chairman Hensarling would have had enough reason for calling the agency and Cordray out on the carpet. But the CFPB has been tagged with a laundry list of other shady practices, including race and sex discrimination, political favoritism, the targeting of individuals, and extravagant advertising.
Of even greater concern is the CFPB's total lack of accountability. Created by the Dodd-Frank Act, the CFPB's only oversight requirement is to appear and report twice annually before the House Financial Services and Senate Banking committees.  Its funding comes from the Federal Reserve System, not Congress; therefore, it is considered "off-budget" and not constrained by the Congressional appropriations process. The CFPB is run by a single director, who does not report to the President and can only be removed for "good cause." Recently, a federal appeals panel found this structure to be unconstitutional, calling the unelected CFPB director "the single most powerful official in Washington," aside from the duly elected President.
This absence of agency accountability, combined with the CFPB's unprecedented thumbing of its nose to oversight inquiries, reinforced an adversarial environment for the hearing.  Knowing that their opportunities to question Mr. Cordray were few and far between, committee members gave the CFPB director their best shots.  Sadly, committee members had more questions than Cordray had answers. Here are a few highlights.
Prepaid Cards
In October 2016, the CFPB issued a 1,689-page rule, regulating the issuance of prepaid cards, which have garnered popularity due to rising checking account fees and minimum balance requirements. Opponents of the rule say it endangers providers of these cards and the nearly 68 million Americans who use these products. Congressional threats pressured the CFPB to delay implementation of the rule. At the hearing, Rep. Roger Williams (R-FL) stated his intention to pursue legislation introduced by him and Senator David Perdue (R-GA) to use the Congressional Review Act to rescind the rule.
Small Dollar Lending
Last summer, the CFPB proposed a far-reaching rule regulating small dollar, or "payday" lending practices. Under questioning from Rep. Blaine Luetkemeyer (R-MO), Cordray mentioned that the CFPB had received more than a million public comments to the rule. But he passed on answering Luetkemeyer's questions about alternatives for small-dollar loan users if the regulations effectively ban the product. Nor did Cordray respond to questions about when to expect a final rule, despite the public comment period ending six months ago.
International Remittances
Under questioning from Rep. Andy Barr (R-Ky.), Cordray stated that the CFPB could not exempt credit unions from its regulations, in spite of the fact that CFPB's burdensome rulemaking has forced credit unions on military bases to stop offering remittance products to American military personnel. Cordray made his assertion, despite the disagreement of Barr and other committee members, including Democrats.The CFPB continues to review this regulation.
Questions were also directed at Cordray regarding potential law breaking by the CFPB during the issuance of indirect auto lending regulations and rules adversely affecting the manufactured housing industry. Throughout the hearing, Cordray hemmed, hawed, and otherwise neglected to give answers.
Congress is unlikely to put up much longer with the dilatory tactics of the CFPB to explain its heavy-handed and abusive "consumer protection" tactics. Last year, Chairman Hensarling offered "The Financial CHOICE Act," which would overhaul the Dodd-Frank Act, severely rein in the CFPB, and build in greater accountability safeguards for the agency and its director.  With Hensarling preparingto introduce a 2.0 version of the Financial CHOICE Act this year and the possibility that President Trump could remove Cordray from his perch of power, the director may have to come up with some answers — while he still can.
Peter Hong is a contributing reporter at Americans for Limited Government.