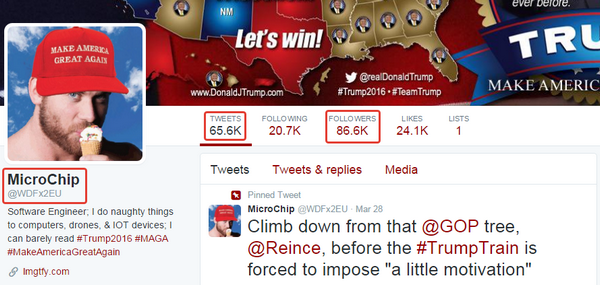 By Natalia Castro
Being a Republican is not synonymous with being a Russian spy; yet according to Democrats paranoid about possible Russian intervention into the 2016 election, the two have basically become the same. Through a series of baseless claims, liberal media is trying to push any Trump supporter as a Russian propaganda tool, only making themselves look inepter.
Democrats latest accusation comes against "Russian automated bots" which some seem to believe have been spreading pro-Trump propaganda on Twitter.
In fact, Mark Warner (D-Va.) told reporters on Capitol Hill that, "There were upwards of 1,000 paid internet trolls working out of a facility in Russia, in effect, taking over series of computers, which is then called a botnet."
Warner predicted that the Russians used this network over Twitter to spread false information to influence the electorate during the election.
Former FBI agent Clint Watts testified at the Senate Intelligence Committee on March 30 that  "American looking social media accounts, the hecklers, honeypots and hackers…working alongside automated bots further amplify and disseminate Russian propaganda amongst unwitting Westerners. These covert, 'black' operations influence target audience opinions with regards to Russia and undermine confidence in Western elected leaders, public officials, mainstream media personalities, academic experts and democracy itself."
Unfortunately, a man from Utah has come out with a simple statement, "It's all us, not Russians. And we're not going to stop."
In a Buzzfeed news report on April 5, a man known only as MicroChip explains how he utilized pro-Trump tags to make so-called alt-right messages go viral on Twitter. He claims to direct a Twitter-based botnetwork anonymously from his freelance mobile software developing company in Utah. He maintains anonymity, according to Buzzfeed, "first, because he fears losing contract work due to his beliefs, and second, because of what he calls an 'uninformed' discourse in the media and Washington around Russian influence and botting."
The network MicroChip compiled has been claimed to reliably generate 35,000 retweets a day. The "Russian Twitter Bots" that Sen. Warner seems to be afraid of, is nothing more than a 30-year-old political activist with a computer and knowledge of how to make people click "retweet."
Warner is relying on the testimony of one cyber security researcher alone to make "red scare" claims against pro-Trump social media accounts on venues like Twitter.
This is not the first time that claims of Russian influence in the 2016 has proven to be overblown.
PropOrNot.com lists prominent political blogs as "sites that reliably echo Russian propaganda," they even list news sites as diverse as the libertarian, financial site ZeroHedge.com and liberal, economics politics site NakedCapatalism.com as Russian propaganda outlets. Total nonsense.
But that did not stop the mainstream media from latching onto this theory of Russian intervention via propaganda outlets inAmerican media. The Washington Post was quick to publish a story entitled "Russian propaganda effort helped spread 'fake news' during election, experts say" in late November, using PropOrNot.com as the sole source on Russian influence.
In a later added editor's note, the Washington Post had to admit that, "The Washington Post on Nov. 24 published a story on the work of four sets of researchers who have examined what they say are Russian propaganda efforts to undermine American democracy and interests. One of them was PropOrNot… A number of those sites have objected to being included on PropOrNot's list, and some of the sites, as well as others not on the list, have publicly challenged the group's methodology and conclusions. The Post, which did not name any of the sites, does not itself vouch for the validity of PropOrNot's findings regarding any individual media outlet…"
So much for that.
In the meantime, in Washingon, D.C., Senator Warner — who is the vice chairman of the Senate Intelligence Committee leading the investigation into all things Russia — has apparently switched to an encrypted app called Signal for sending messages, his team members are being tested on Tolstoy and Nabokov and he is reading books on Romanovs.
Warner is paranoid about Russia.
This fear permeating throughout the corridors of Capitol Hill is not just ridiculous but is causing unprecedented attacks on individuals exercising their basic First Amendment freedom of speech. "Russian" bots turn out to be pro-Trump Twitter users who are American. "Russian" propaganda sites turn out to be long-standing, widely read news sites that provide alternative viewpoints.
There is a pro-Trump social media presence, but it is the American people — not Russian spies.
Natalia Castro is a contributing editor at Americans for Limited Government.